Discover more from Tales of the Orient by Simon Ostheimer
Original stories about Asia by a British Hongkonger
Over 3,000 subscribers
The Beauty of Battambang - Part 3
Like every good story, this one of Battambang has a beginning, middle and end. In the final part we bike through the countryside, visit the airport, and check out the circus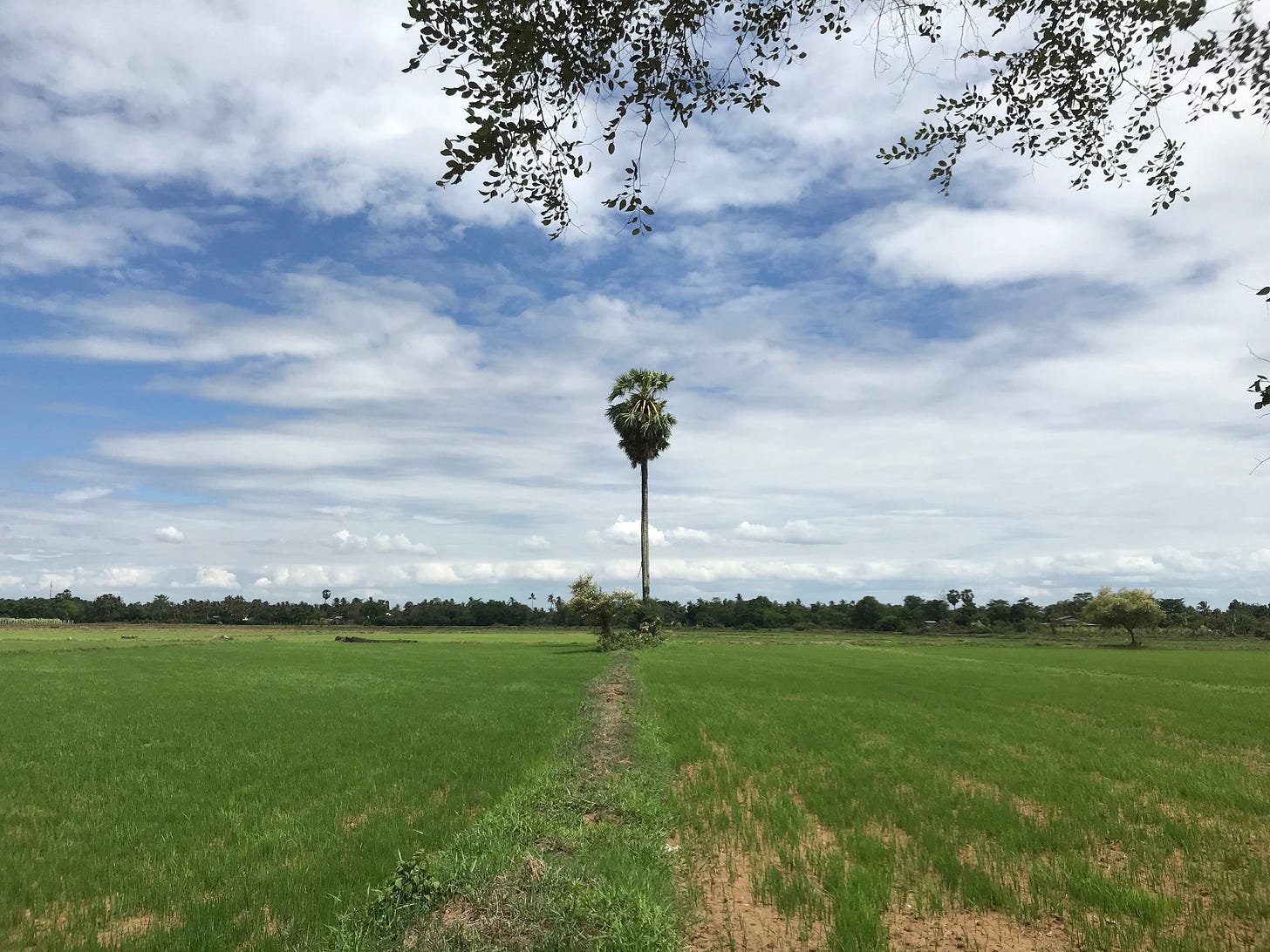 I'll be honest, I never expected to be writing a three-part story about Battambang. I barely figured I'd be able to scrape enough material for one. However, the beauty of Battambang (see what I did there) is that there's so much more to the city than meets the eye. It's the kind of place that grows on you, and the longer you stay the more you discover. For instance, it has an occasionally used airport, and if you pay your tuk-tuk driver enough he'll take you for a spin down the runway. So that's exactly what we did.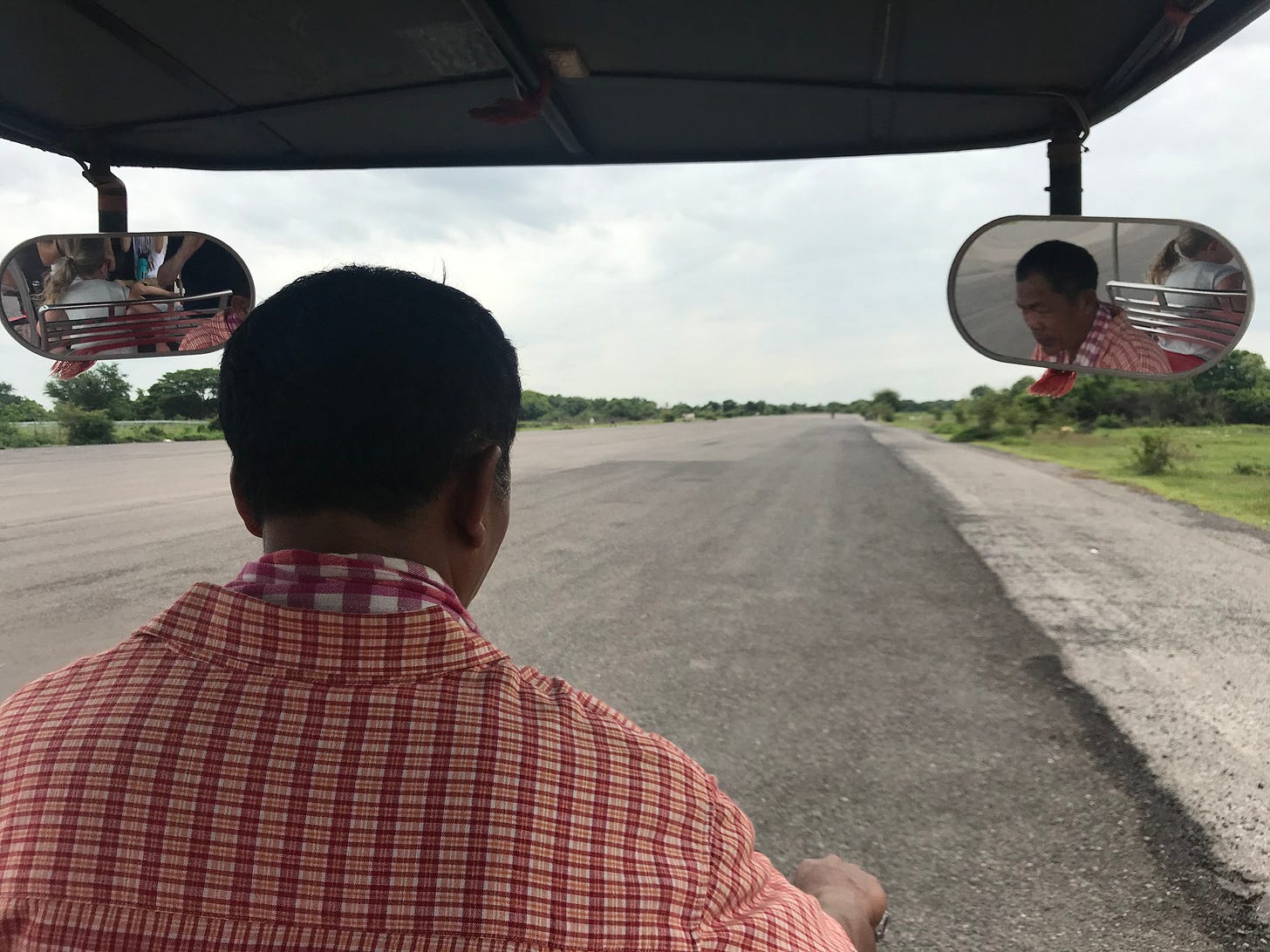 Headed through an unmanned security barrier, we cruised down a potholed road, past a low-rise terminal building, and out onto the tarmac. Slowly arcing around a parked government helicopter (similar to the ones that buzz our apartment in Phnom Penh, this was very much ready to fly), we proceeded out onto the runway, taxiing to the end, before turning and preparing for takeoff. Alas, we couldn't quite get up enough speed, but we did meet a group of parked motorcyclists having breakfast, farmers tending their goats, and a learner driver practicing his three-point turn (well, turning at least).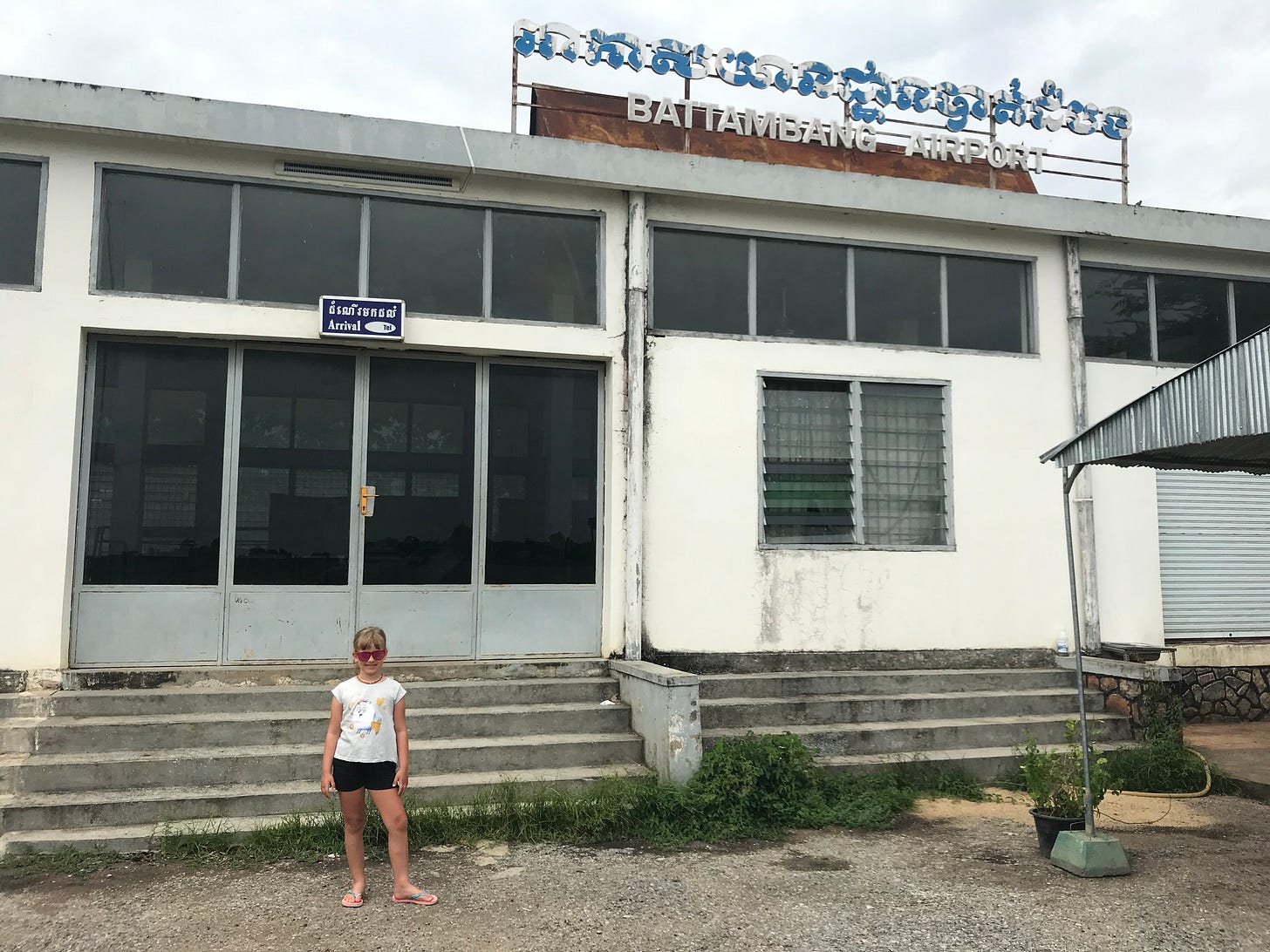 Opened in 1968 to serve the burgeoning tourist market, Battambang Airport was becoming a popular destination for flights until it was forced to shut down in 1975 after the Khmer Rouge victory. Following their downfall in 1979, it was used by the new People's Republic of Kampuchea as a military airbase from which to attack the defeated Khmer Rouge forces, who remained strong in the area through to the 1990s. It finally closed in 1991, and served as a public park until its limited reopening - when the runway was relaid with tarmac - a few years ago for occasional government flights. Mostly it's just helicopters, explaining the many farm animals found grazing the area, while the abandoned terminal building is now home to a local family selling drinks. There has been recent talk of reopening the airport to boost local tourism, and studies are already underway - it would make for a pleasant short jaunt up from Phnom Penh.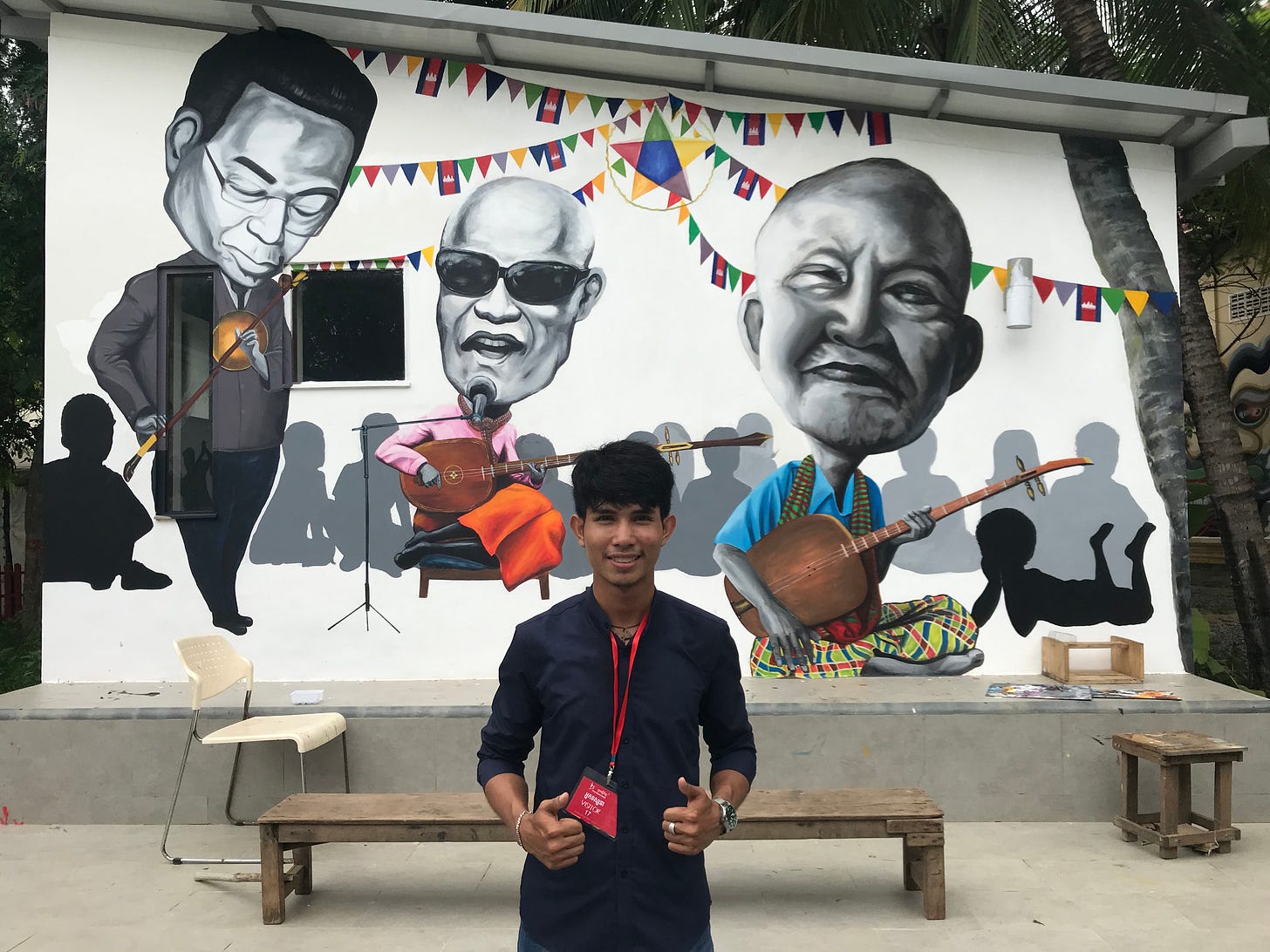 From the airport we made our way to the main campus for the Phare Circus. While, in better days when international tourism was possible, visitors flocked to the big top in Siem Reap city to see the amazing acrobatics of the Cambodian performers, not so many made their way to the training centre in Battambang, a sprawling campus of the creative arts dedicated to training local youth in traditional music, painting, dance and more. However, this is where the famed circus started, and remains the training base for those who perform in Siem Reap. Founded in 1994, the non-profit organization is called Phare Ponleu Selpak, Brightness of the Arts, and as well as teaching the arts, also provides formal education (there is a pre-school on site) and healthcare, helping up to 1000 children at any one time. Unfortunately due to the current situation, the workshops they normally run for visitors weren't available, but it was still amazing to tour the site, try our hand at Khmer instruments, and say hi to some of the performers we recognized from multiple trips to the Siem Reap branch. While the centre is closed, they still accept donations through their website for what it is a very worthwhile cause.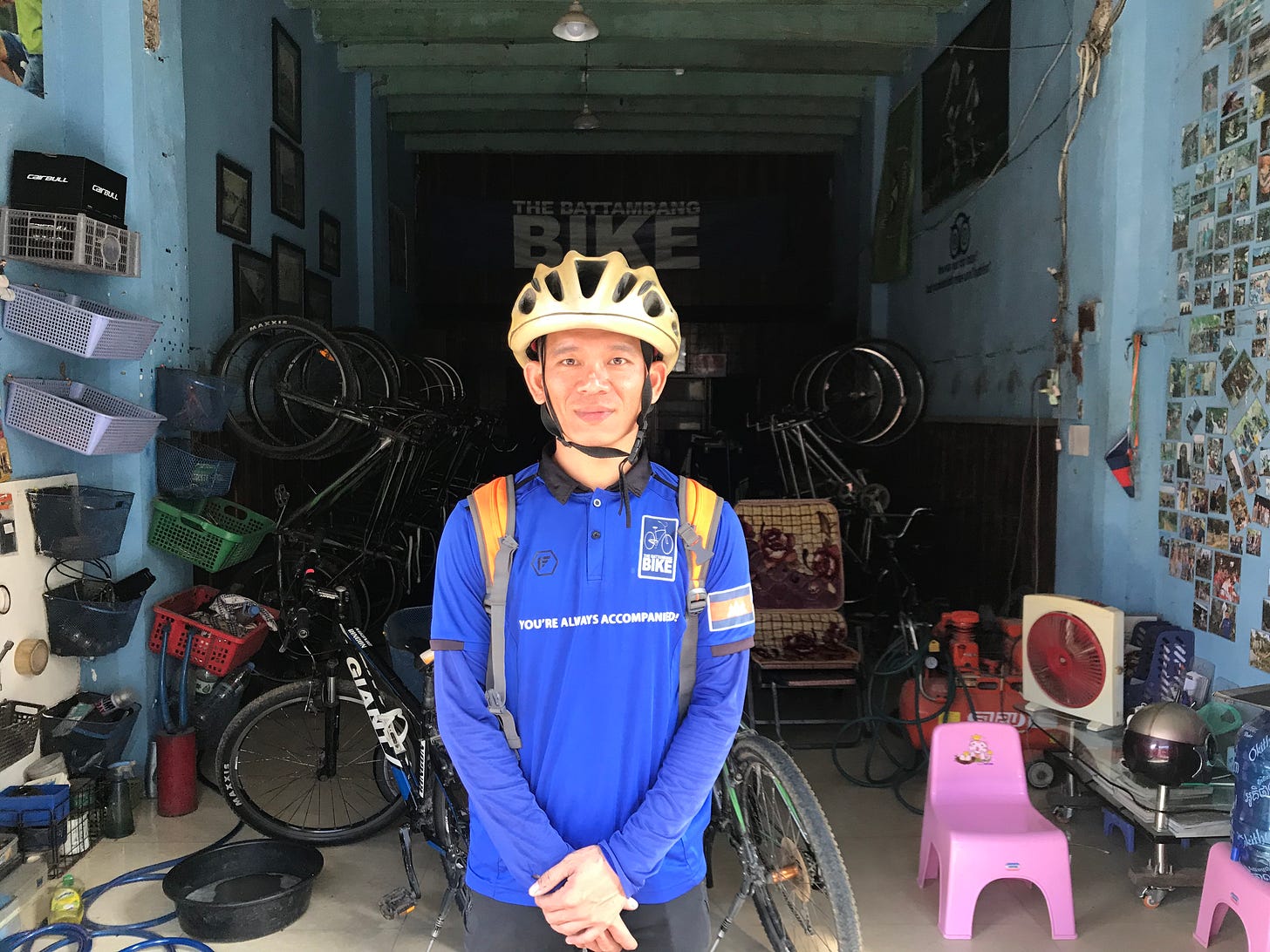 As you may have gathered from parts one and two, one of the major attractions of this city is everything you find outside it. Which is why our final major excursion was a 20 kilometer (we only expected it to be 10) bike ride through the countryside, as part of a tour by The Battambang Bike. Setting off from the shop in the middle of town (you'll recognize it by the bike hanging from the second floor balcony), we first cruised up Street 2.5 - yes, they have half streets in Battambang - towards Psar Nat, or Central Market, the French-built mercantile hub that still serves as an anchor for city life. In this historic part of town colonial-era shophouses still line the street, though in truth the old architecture I was expecting isn't much more than you'd find in the average up country Malaysian town. Still, the low-rise alleys were perfect for exploring by bicycle.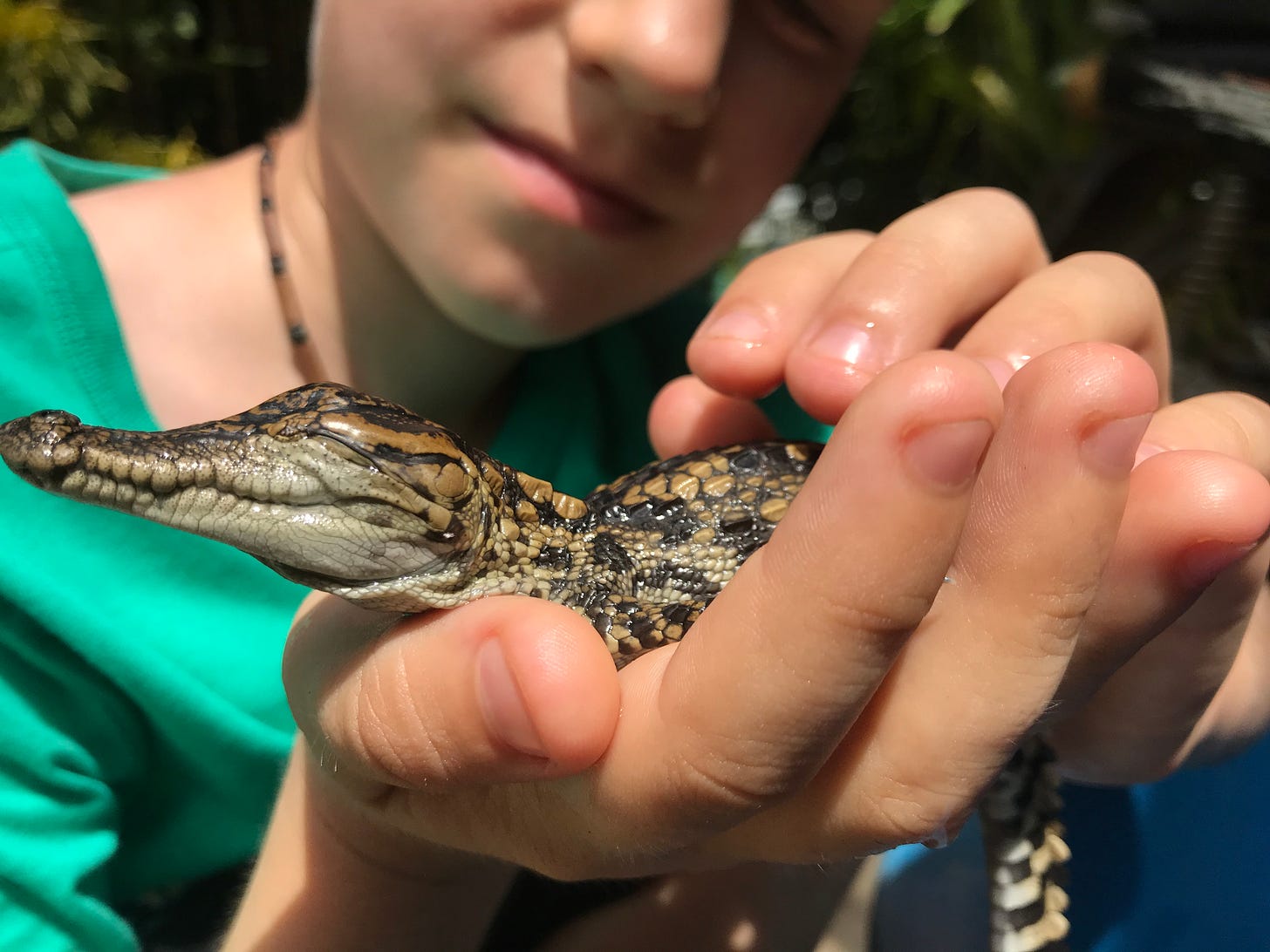 From here we crossed over the Sangker River that runs through town (almost empty as it was still dry season), along dusty streets and towards our first stop, a crocodile farm. Having lived in Thailand for seven years, we had encountered our fair share of these, and usually steered clear (the same applies to dolphin shows), with their tendency to bait the animals, and even have the occasional accident involving a tourist. However, this operation was most definitely commercial, with the reptiles grown from eggs until full adult size, and then used for meat and their skin for bags and fashion. Whether you agree with it or not, these are farm animals, and they bring in a very important income for the families that run them. In a small bucket were four tiny two week-old babies, which we were allowed to pick up (but not take home as a pet, as my daughter would have liked to), before we ventured onto catwalks looking down on intimidating three to four meter long crocs, either sunbathing or lazing in the pool. "They're only dangerous when they're hungry," our cheerful cycling guide helpfully pointed out.
From here it was time for a pit stop of freshly made sugarcane juice (given a delightful touch of tang by the Battambang oranges - famous for being green) and fermented fish rice roll wrapped in banana leaf that only I tried (and liked). Entering the culinary part of our journey, we next tried raw rice paper made in the traditional way, and then had it as part of a tasty spring roll, ate dried mango under a local stilt house (discovering how it was made), and then headed out into the rice paddies. Turning round a corner, and maintaining a good speed, there was a loud pop and we came to a quick stop - my daughter's back tire had gone. Calling back our guide, it emerged he had everything needed to fix my bike, but not hers. For the next hour, as he arranged transport, we took selfies in the fields, scrambled to avoid ants, and waved at passing motorcyclists who were probably wondering why we were pedaling, when a gas engine was easier.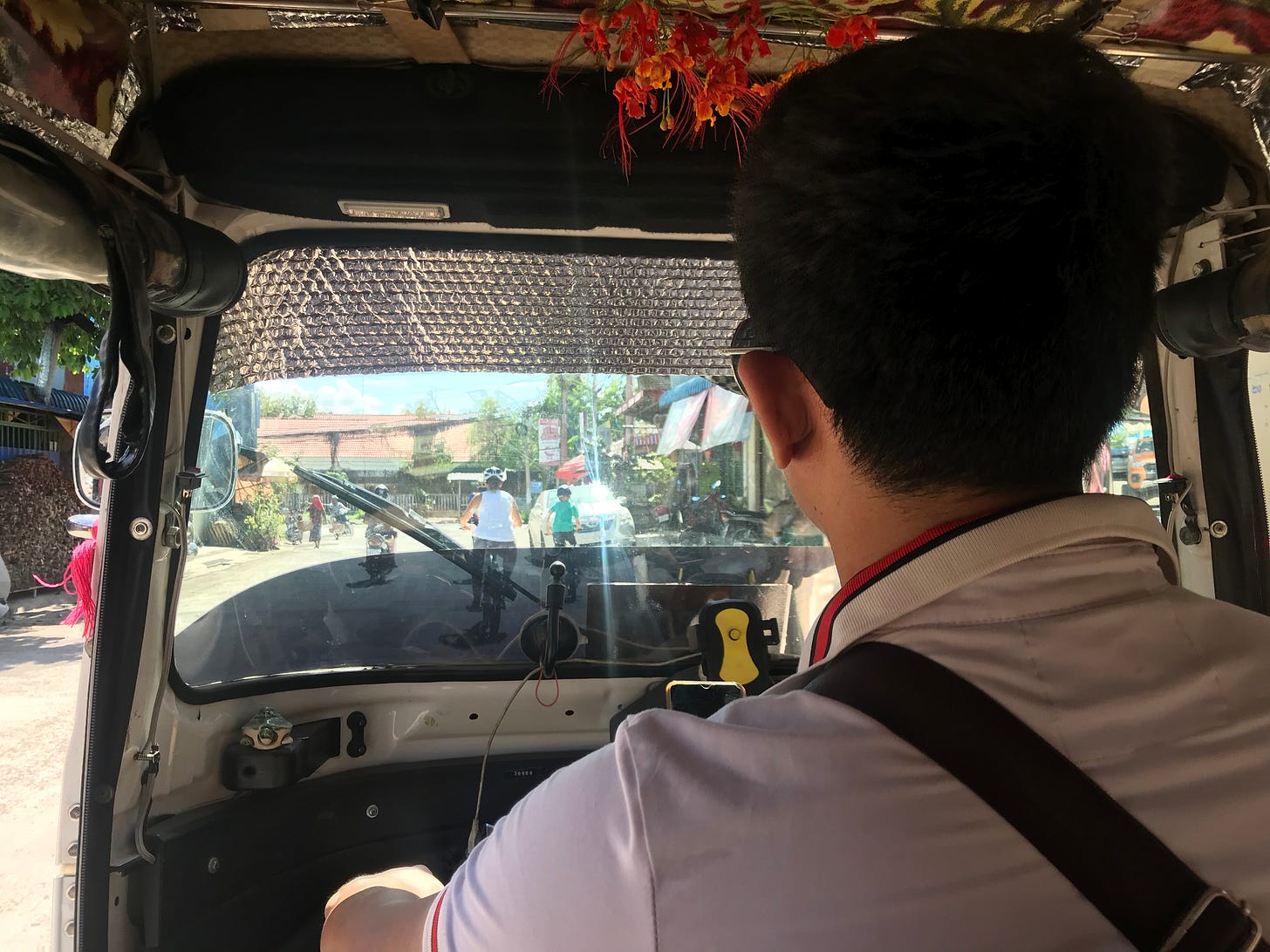 Finally, a three-wheeled rickshaw (known as PassApps by the ubiquitous transport app everyone uses here) showed up, and we shoved the broken bike inside and continued on. With the breeze back in our faces, we trundled on, pausing for some pomelo and a delicious snack of sticky rice, coconut milk and black bean, eaten out of the bamboo its cooked in. Lastly, it was back to town and a late afternoon meal of dumplings at the aptly named Chinese Noodle Dumplings restaurant, opposite the old Chinese school. There were other great meals, such as at the upmarket Jaan Bai ('Rice Bowl'), where the Thai-infused menu reflects the input of Bangkok-based chef David Thompson, of Michelin star restaurant Nahm; or even the simpler charms of White Rose, a corner place that serves excellent local dishes in a clean setting and at great prices. Indeed, Battambang has so much to offer in terms of cuisine, and everything else besides.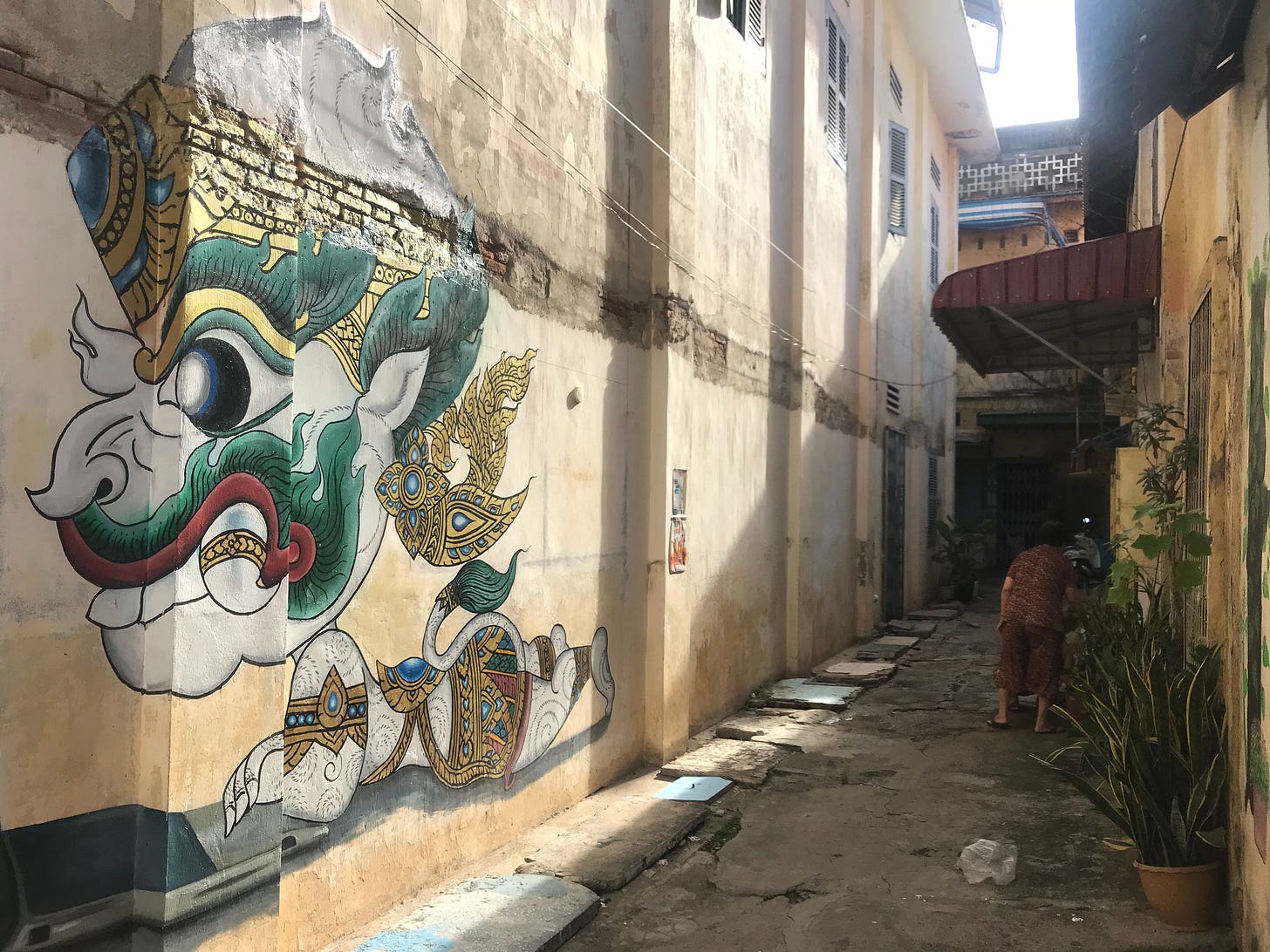 After a whirlwind of experiences, we finally headed back to Siem Reap. But the beauty of Battambang is that there is always more to discover. And it means - we'll be back.
Click here to read The Beauty of Battambang - Part 2
Click here to read The Beauty of Battambang - Part 1