The Beauty of Battambang - Part 1
Cambodia's second city is also one of its least visited, so it was about time to check out this laidback metropolis, and the ancient temples and nature that surrounds it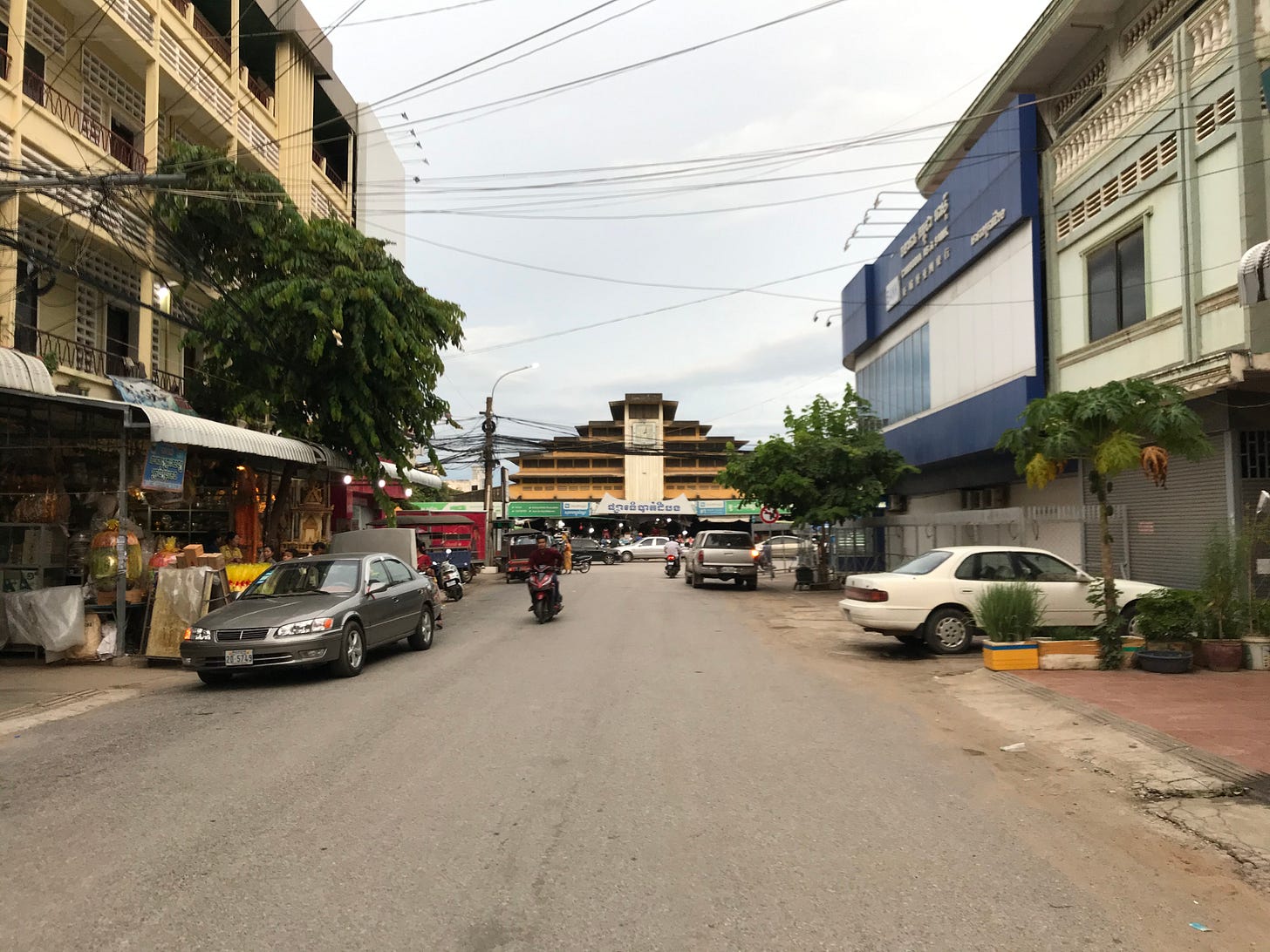 It took me two and a half years to get to Battambang, and I sorely wish I'd gone sooner. Known as Cambodia's second city (though its population of just 150,000 is dwarfed by Phnom Penh's 2 million), in recent times it's been overtaken by nearby Siem Reap, though currently the place local expats refer to as 'Temple Town' is more like a ghost town, with most of its businesses and hotels having pulled down the shutters due to lack of tourists. Of course, the almost complete closure of the kingdom's borders (at time of writing restrictions included no tourist visas, mandatory Covid checks and quarantine, and a US$3000 deposit for all non-Cambodians), means this is the perfect time for those of us remaining within the country to explore its cities and countryside.
To avoid going through the airports (and in part due to the lack of domestic flights), we first drove up to Siem Reap - a pleasant trip on good roads that took six hours - then, after a few days respite at the rather divine Navutu Dreams Resort & Wellness Retreat (hotel review coming soon), headed due southwest to Battambang, a four hour journey on not-quite-so-nice roads. Upon entering the outskirts of town, our first impressions weren't great - it seemed to be a sleepy provincial town with nondescript architecture and little in the way of natural beauty. The roads on the outskirts (where we stayed at the charming little Bambu Battambang Hotel - stay tuned for the review) were dusty and lined by a forgettable array of businesses. In all honesty, we wondered what we'd bothered making the trip for. Which probably explains the first evening's beer blowout at the Bambu's colonial-style sit-up bar, imbibing a week's worth of US$1 Tiger draft.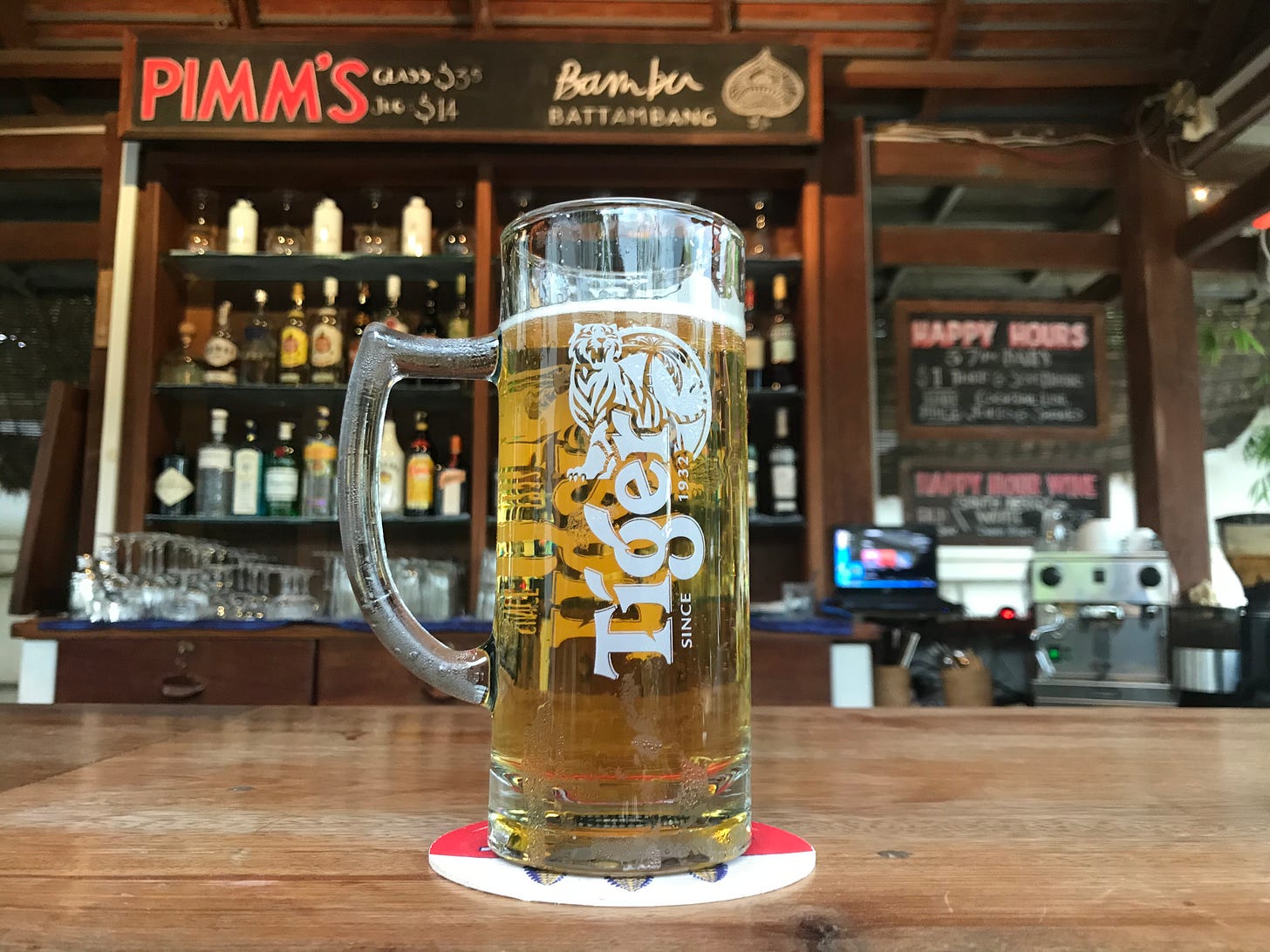 Awaking with a hangover and vow of eternal sobriety (improved, in part, by the hotel's full English breakfast), it was into the tuk-tuk and off to the Battambang Provincial Museum. Housed in a 1960s-era building commissioned by historian Madeleine Giteau (the last French curator of the National Museum in Phnom Penh), the architecture has a suitably Franco-Khmer feel, with high ceilings, shuttered windows, and a temple-style roof. The facility is open-air, but surprisingly cool, and contains an impressive assemblage of pre- and post-Angkorian statuary, with clear descriptions in English and French. King Sihanouk himself attended the museum's 1963 opening, and he no doubt would be proud that his petit musée continues to impress international visitors.
We next attempted to visit the grand-sounding Governor's Residence, a short drive to the south. The two-floor mansion set within expansive grounds was indeed imposing, but unfortunately was closed to visitors on the day we tried to visit (there is a small residence within the grounds that serves as a guesthouse for the royal family when they visit, so I'd like to imagine the closure meant we were in the presence of royalty). Drifting back in time, you might imagine French colonial officials sipping champagne on the terrace toasting its grand opening, but you'd be wrong as it never happened.
This remarkably colonial-looking building was indeed designed by a European, but he was Italian, and the governor it was designed for was Thai. Remarkably, for more than a century from 1795 to 1907, Battambang was ruled by Thailand as part of the annexed territory Inner Cambodia (which also included the modern day provinces of Banteay Meanchey, Oddar Meanchey, Pailin, and Siem Reap). It was only in the early 20th century that the expansionist French forced the Siamese to retreat back westwards, though this monument to Thai ambition remains, apparently filled with assorted curios, antique furniture and sepia photos - though I couldn't vouch for any of it.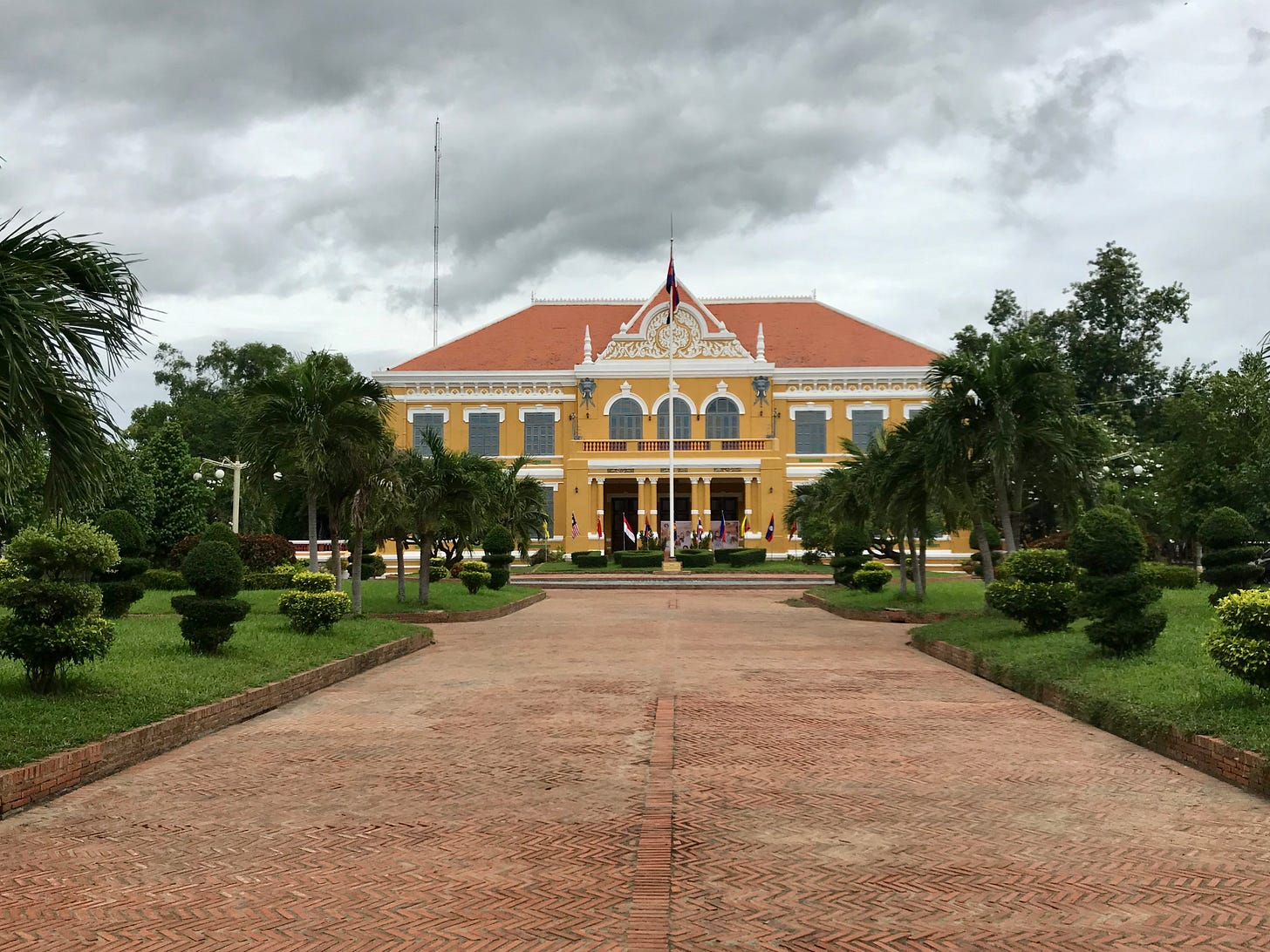 Instead, we headed a short drive south of town to Mrs. Bun Roeung's Ancient House, one of 20 century-old wooden dwellings that still stand in Wat Kor village. Shadowed by trees, this traditional home makes for an informative diversion, as the guides give a brief introduction to the design of the home that includes the techniques used to keep it cool (the walls contain sticky rice!), the mirrors strategically placed to see visitors, the damage caused when the Khmer Rouge used it as a central kitchen, why there are two staircases, and background on the royal connections of the family that lives here. While small, it makes for a perfect historical contrast with the Governor's Residence.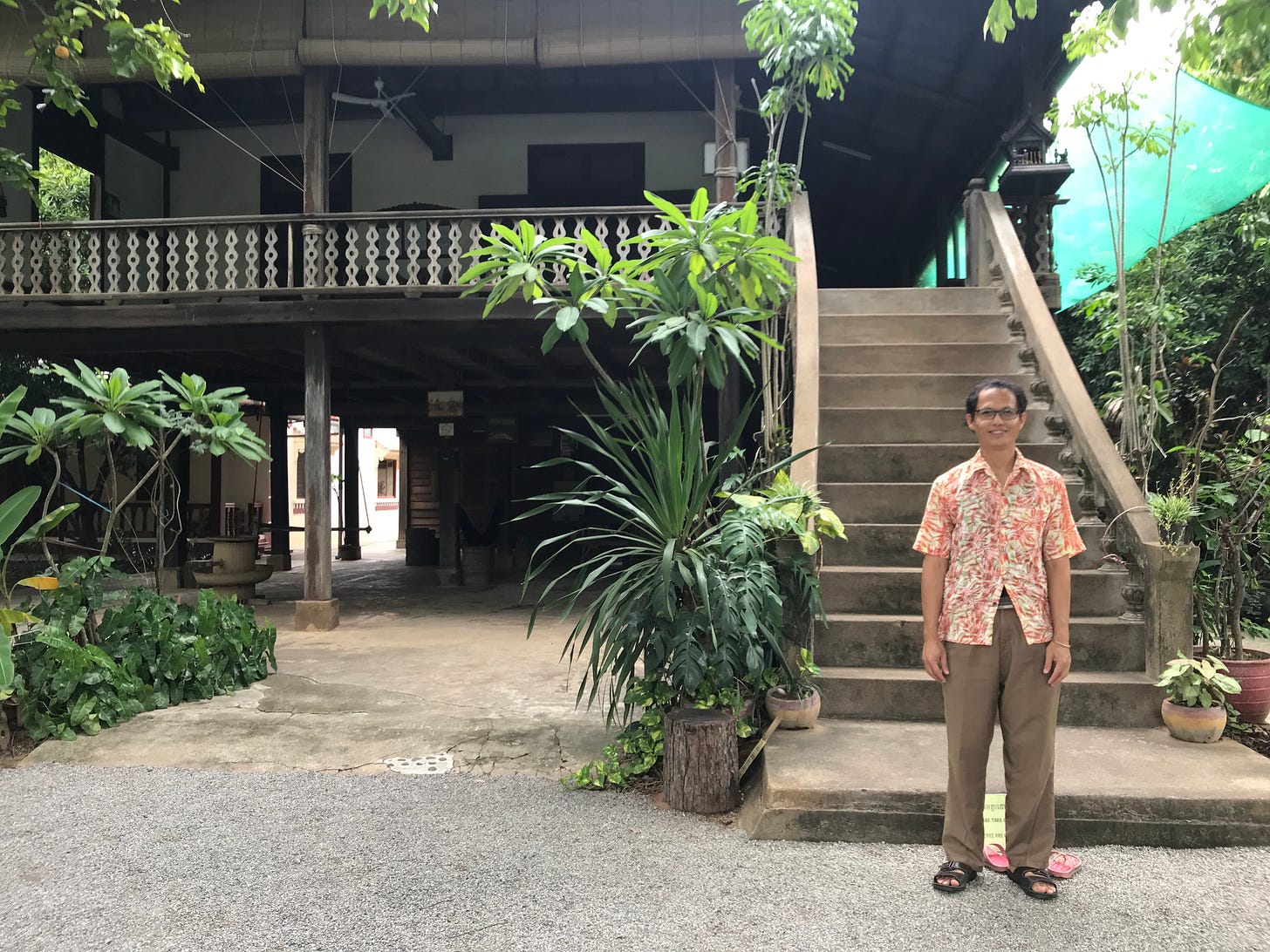 By now it was time for lunch, and we chose Cafe Eden on the riverside, though the lack of water in the concrete-lined Sangker River makes that sound more romantic than it is. This popular spot combines a boutique shop selling retro curios and fun fashion with American-style comfort food - think crispy chicken burgers, Philly steak sandwiches and spicy fish tacos. It means you can browse while you wait for your meal, and pick up a souvenir. Unless you're like me, and instead become mesmerized by the record covers that serve as menus (here's John Lennon's 1974 Walls and Bridges).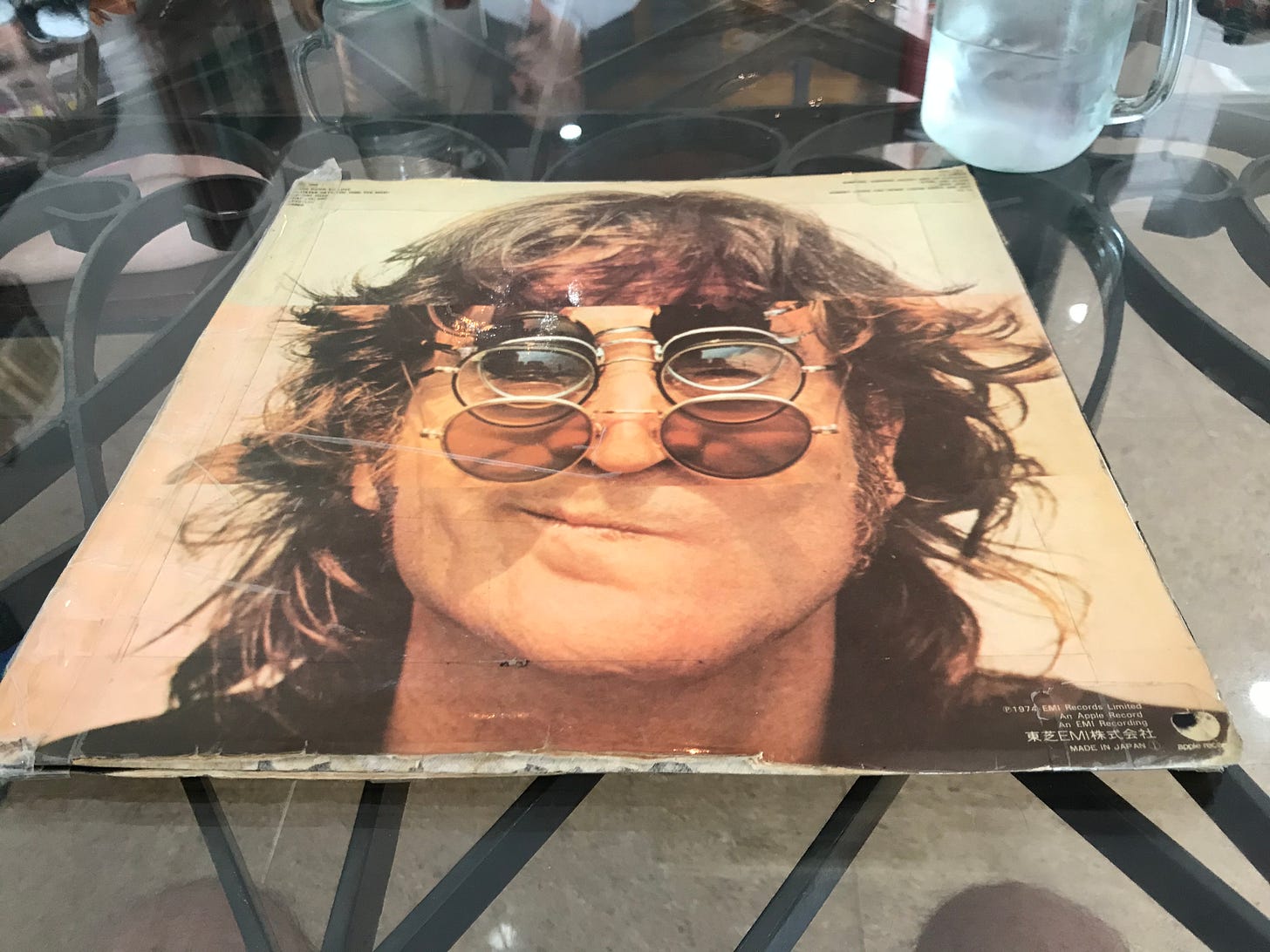 The afternoon's excitement came in the form of Battambang's legendary bamboo train. Back in the 1930s, the French colonial rulers built Cambodia's first railway line from Phnom Penh northwest to Poipet on the Thai border, running through the important trade city of Battambang. Finally completed in 1942, the line was initially successful but then fell into disrepair through decades of war and neglect. However, industrious locals saw the tracks as a way to transport goods, and so came up with the 'Norry', little more than a flatbed built from bamboo, powered by a tractor engine and belt drive attached to former tank wheels. For many years the 'train' helped to transfer, people, equipment, rice and motorbikes, until it also became a tourist attraction.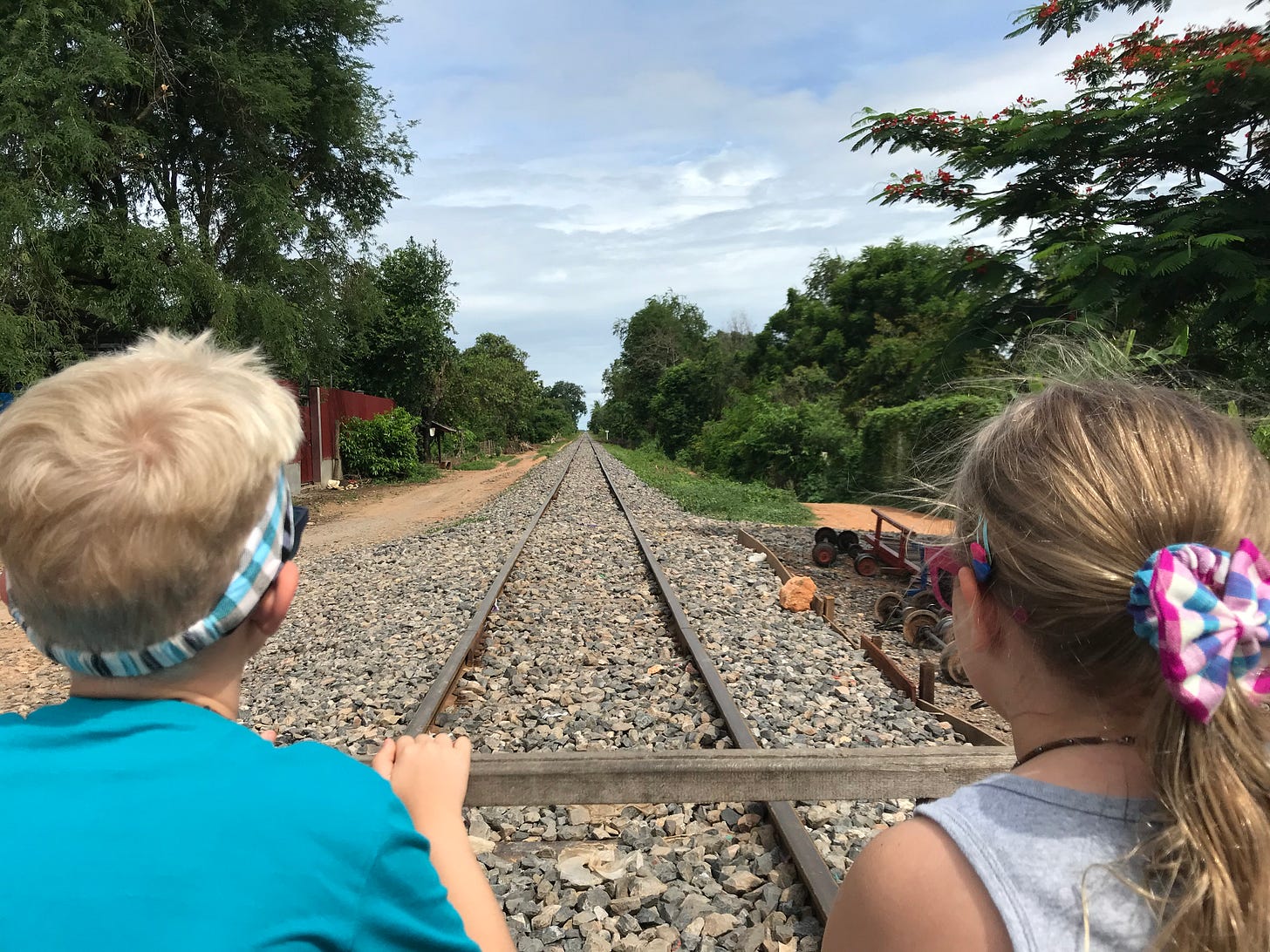 One of the rules or riding the bamboo train is that when you encounter another cart on the single line, the one with the lighter load must be unloaded and dissembled to allow the other one to go by. It means normally you have a start-stop trip, but in our case the lack of visitors meant a clear 15 minute run, reaching speeds of around 40 km/h, with little to hold onto but a wooden bar. Our driver at least slowed down for the cows and trucks crossing the track, before we pulled into a small area of shops and purchased our own toy train and refreshing coconuts (yes, you can also get the t-shirt). The best souvenir though were the smiles and waves from the many friendly farmers as we went by, displaying that genuine warmth you only ever find in the countryside.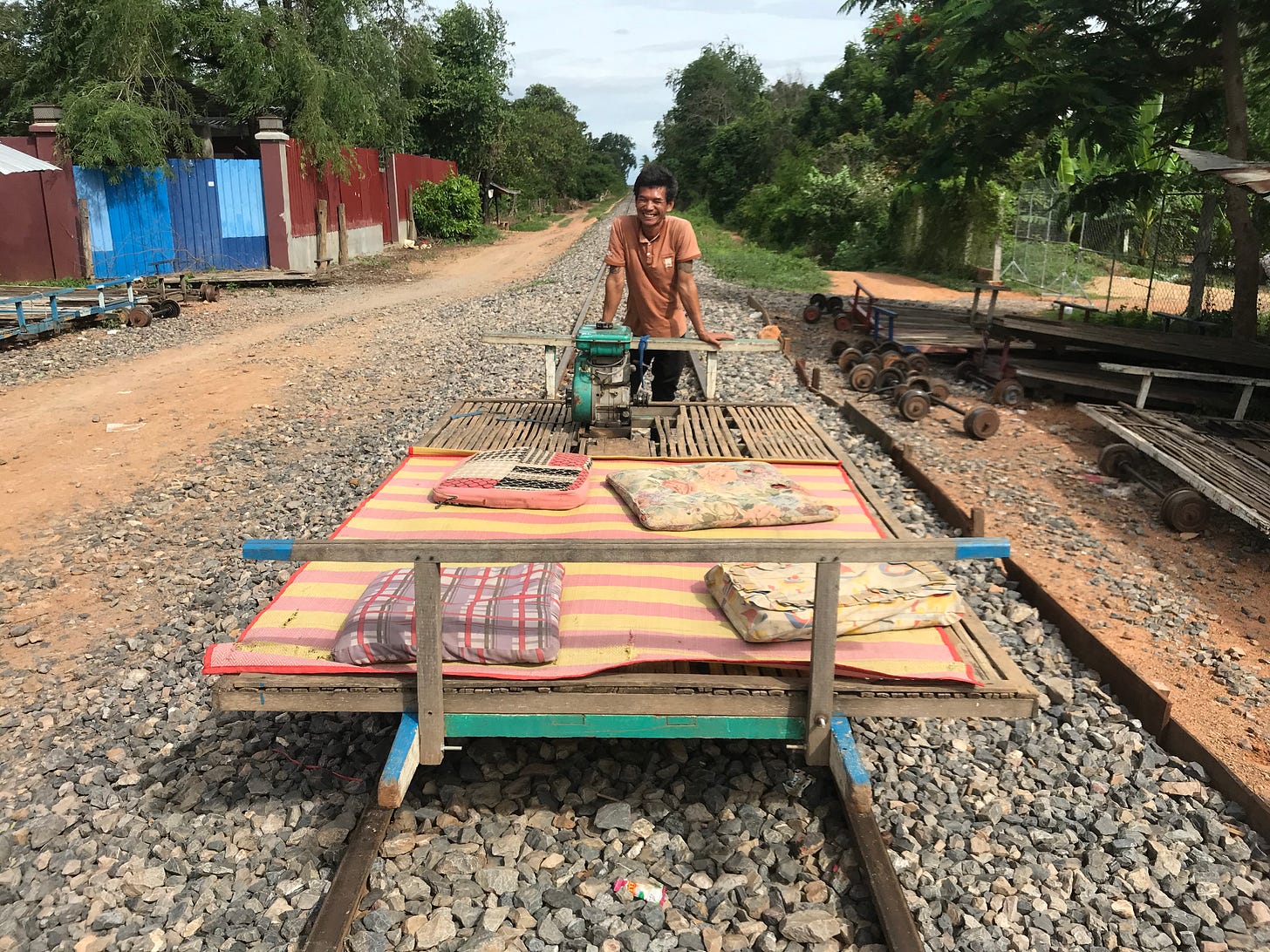 Following a forgettable Italian dinner back in town (we later discovered the Italian chef had gone back home, which explains the lackluster pasta and pizza), we happened upon the wonderful and very unexpected Bric-a-Brac, a combination boutique hotel, atelier, art gallery, restaurant, bar and shop. Occupying a corner mid-century building in the heart of the old town, owners Morrison Polkinghorne and Robert Carmack are (I'm combining talents here) celebrated Asian cook book authors, gourmet tour guides, designers, artists and all-round bon vivants. They have three design-laden hotel rooms, labelled Coloniale, Indochine and Orientale, which they are happy to show interested passers-by (thank you Morrison!), and - with their bar Libations - have one of the best street side spots to sip on a cocktail and watch night fall on Battambang. Our chance discovery and sparkling conversation were the perfect end to a day of fun exploration.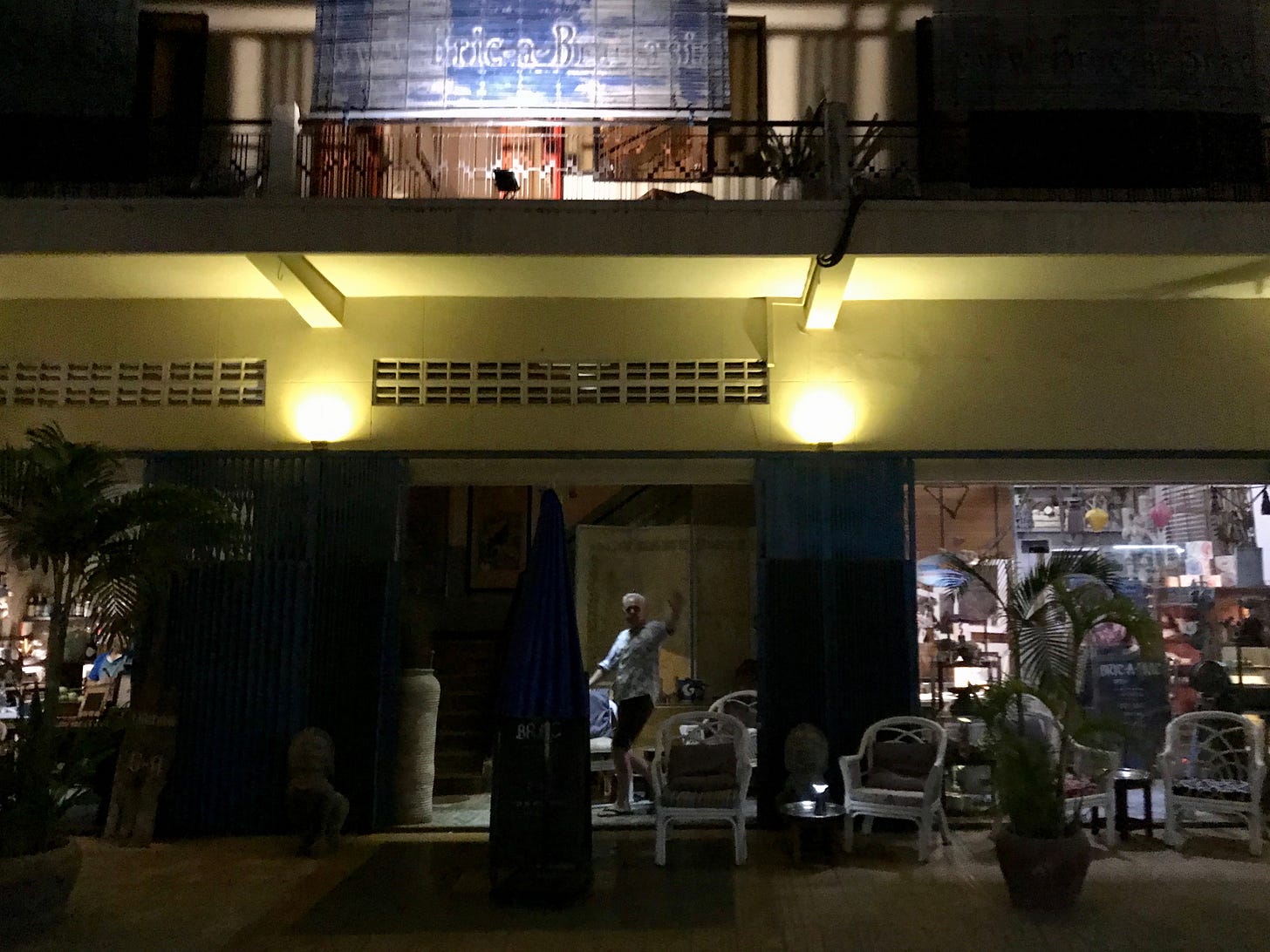 Click here to read The Beauty of Battambang - Part 2