Discover more from Tales of the Orient by Simon Ostheimer
Original stories about Asia by a British Hongkonger
Over 3,000 subscribers
The Elephants of Angkor
How a French-Cambodian family has turned their back on providing rides around Angkor, and instead allowed them to roam Siem Reap's largest elephant sanctuary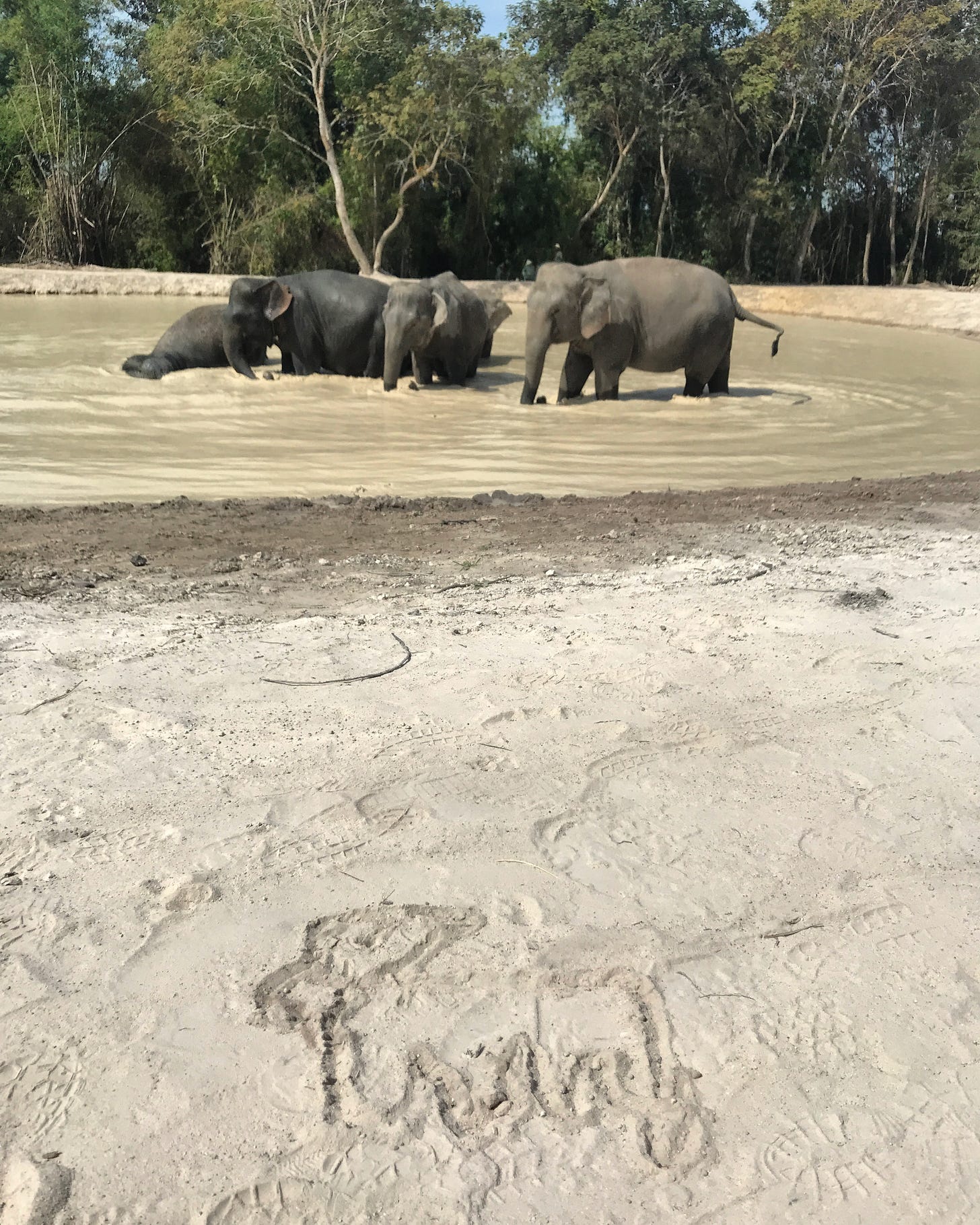 "I'm not an elephant guy - I'm not even an animal guy!" laughs David Piot. We're standing under the hot Cambodian sun, in front of a large manmade pond where a small herd of elephants are splashing around in the water. The young Frenchman is explaining to me how he came to be in charge of the remote Kulen Elephant Forest Sanctuary, located an hour's drive outside Siem Reap, in the foothills of Mount Kulen.
"You could say I grew up around elephants, but I was never really that into them," he continues, "it was just the family business." Piot's family originally came to Siem Reap as adventurous backpackers in the '90s - his parents are both French, but his mother was born in Cambodia - and liked it so much they set up a guesthouse for their fellow travellers. Over the next few decades, the business expanded as the ruins of Angkor drew more visitors, eventually becoming a substantial tourist-focused enterprise combining hotel properties (Angkor Village Resort and Angkor Village Hotel), a traditional Apsara theatre, and a company providing elephant rides around Angkor.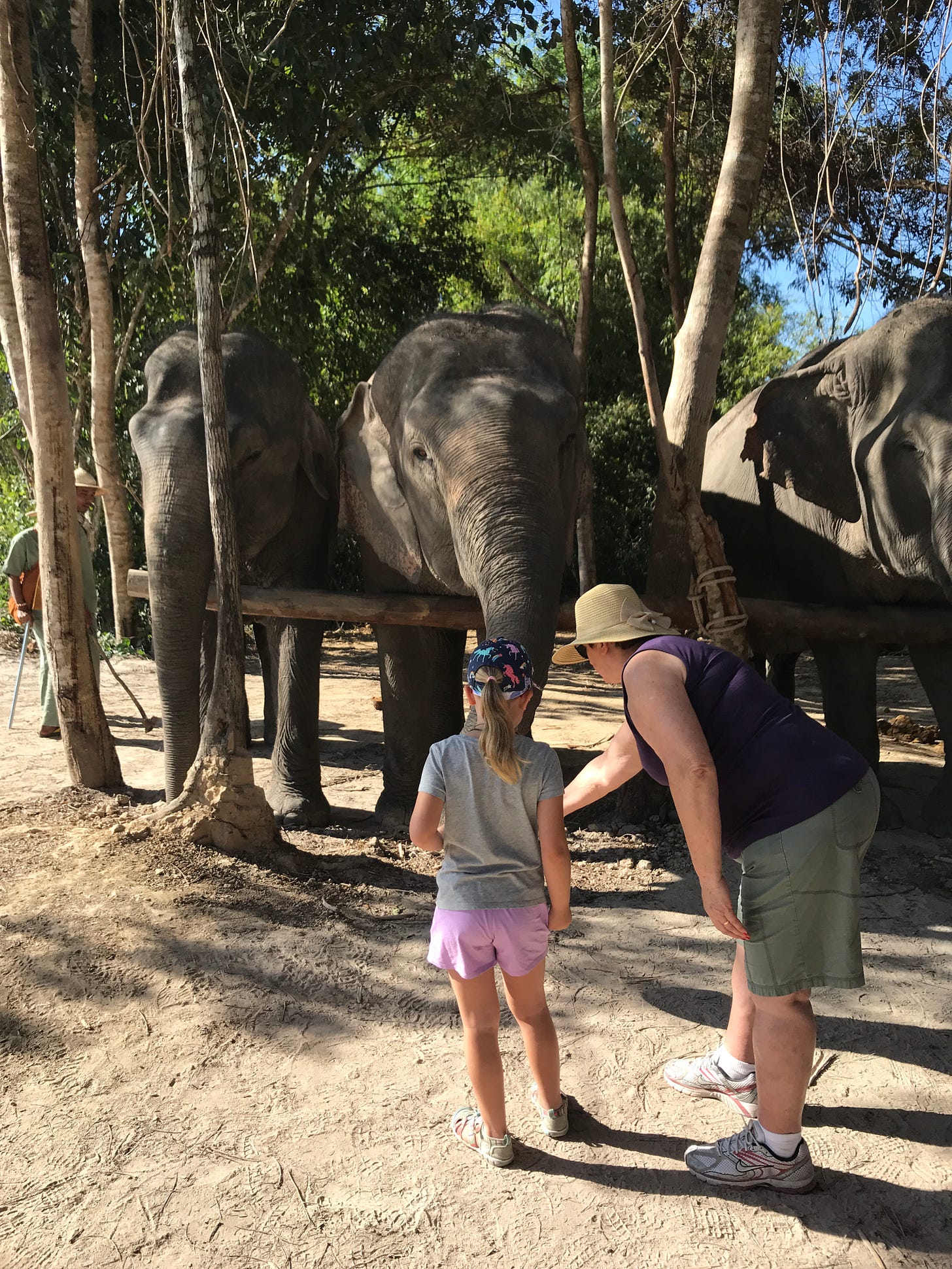 Back in 2004, his father - perhaps seeing the writing on the wall - opened up a small elephant sanctuary close to Mount Kulen (famed for supposedly being the birthplace of the Khmer Empire, pilgrims still hike up to pay tribute to the Buddhist gods, Hindu deities and 9th century Khmer god-king Jayavarman II). "Unfortunately he was ahead of his time," says Piot. Likely due to a combination of distant location, and the fairly new concept of paying to watch elephants walk around rather than ride them, the venture failed to attract visitors, and ended up closing. However, fast forward 14 years and to a bored David Piot, stuck behind a computer in a corporate office in Amman.
"I had a pretty good setup, moving regularly to different countries, but one day I just asked myself: 'Is this what I want to do for the rest of my life?'. I called up my dad and asked if there was any job for me at home, and he said 'of course - I've been thinking of revisiting the elephant sanctuary idea again, do you want to come home and run it?' It didn't take me long to decide, and I was soon on a plane headed back to Cambodia."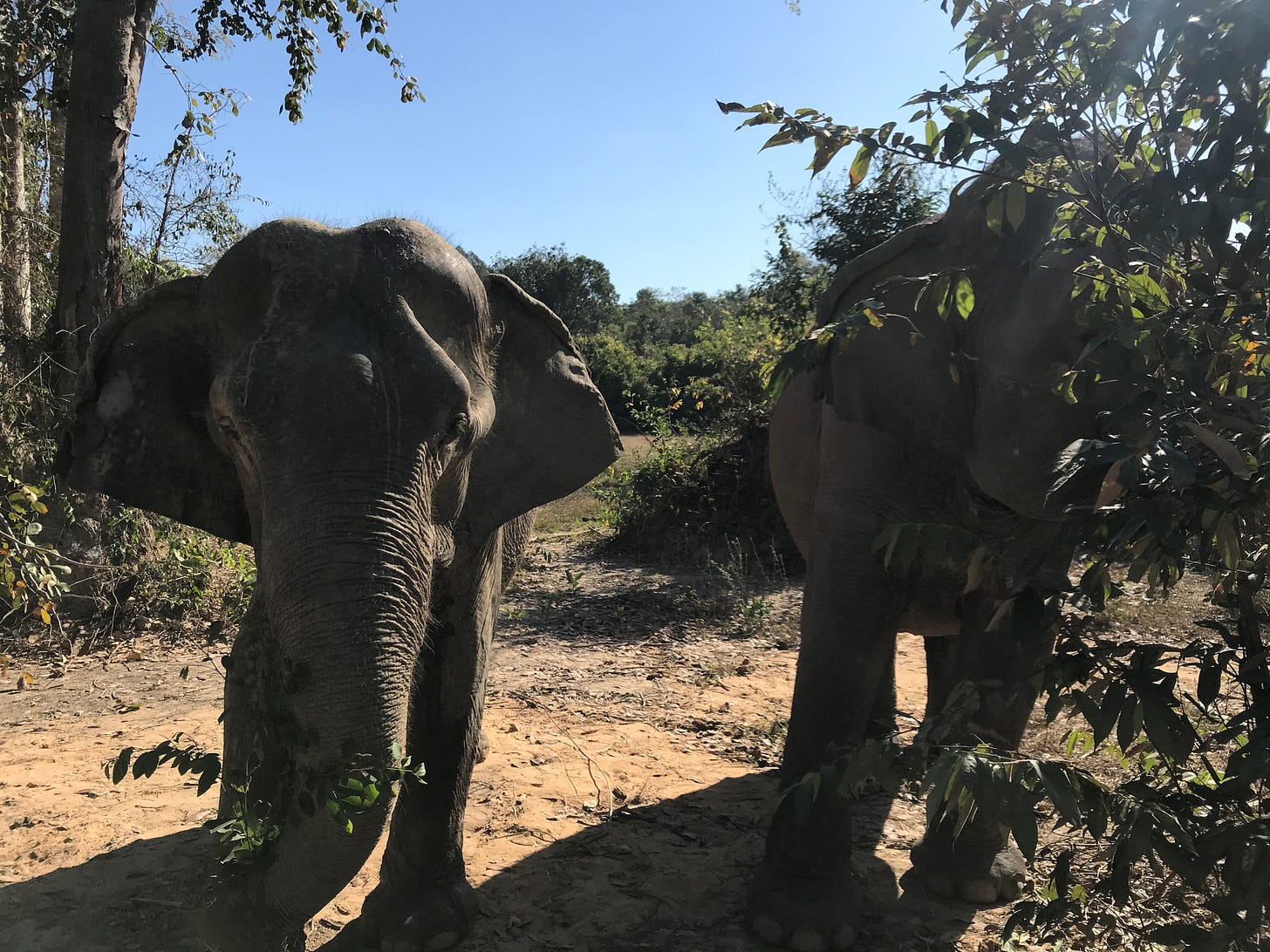 This time around, the tourist market was much more ready to embrace an elephant sanctuary in Siem Reap, as trekking and riding camps came under sustained criticism worldwide, and the number of sanctuaries and centres in Southeast Asia proliferated, including the celebrity-attracting Phuket Elephant Sanctuary, which drew the likes of Chris Martin from the band Coldplay, and actor Leonardo DiCaprio. While the Kulen Elephant Forest Sanctuary has yet to see famous names on those levels, word of mouth is already drawing many visitors in search of a unique experience while in Siem Reap.
The journey to the sanctuary begins early morning at the downtown office on Street 26, found on the quiet east bank of the Siem Reap river that runs through the centre of town. Once you've registered, a minibus takes you on an hour-long journey from the comparatively busy streets of the city to the rural countryside, passing through rural villages, dodging chickens in the road, waving hello to local children cycling to school and getting ever closer to the imposing mountain in the distance. Eventually, the road runs out, and you walk the last kilometre or so along a well worn bush track, stopping every now and again as a guide points out the uses of various fruit and flora along the way. Many of them were or are still farmers, and their knowledge of the land shows.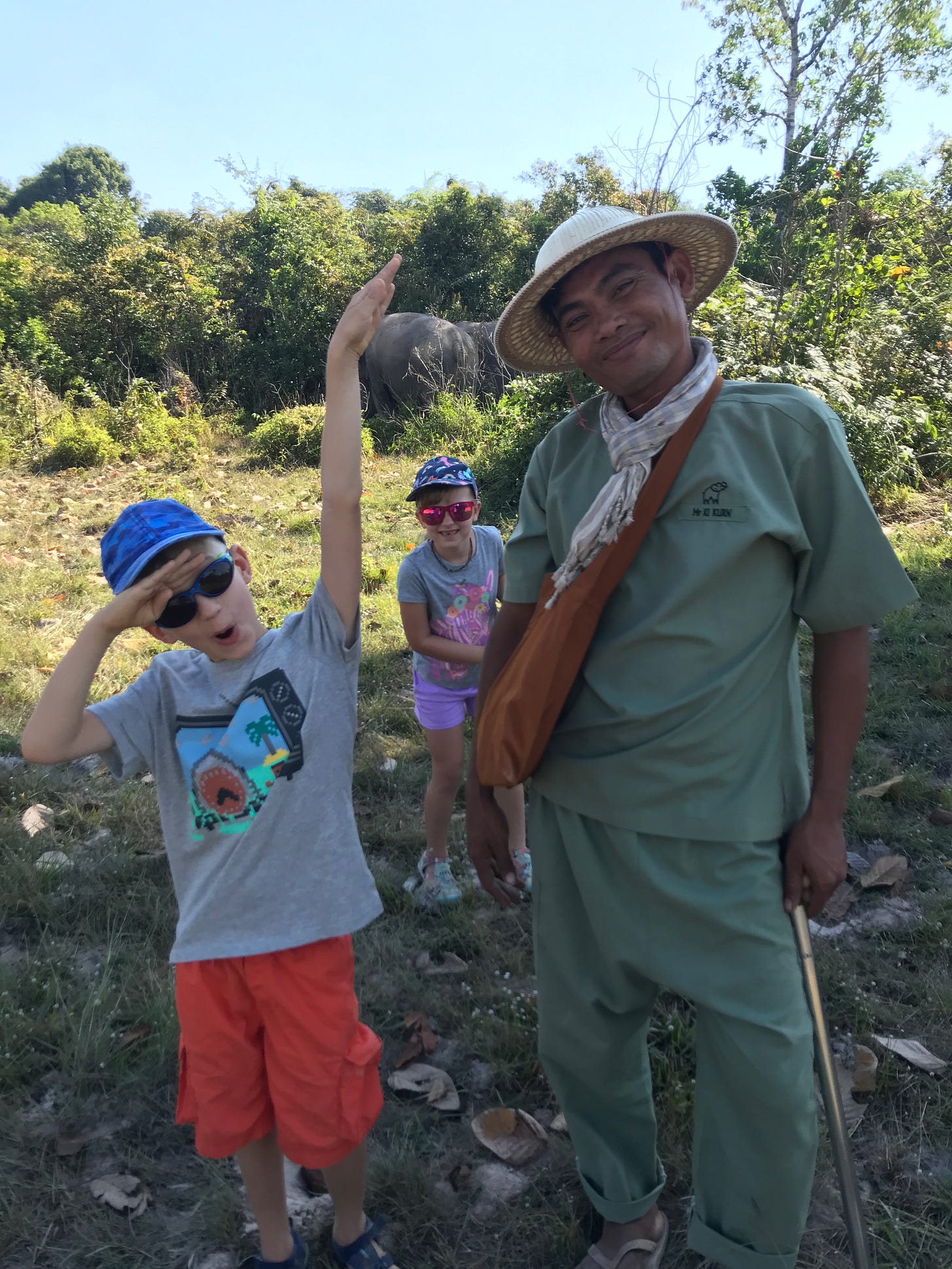 The elevated main building, built in the style of a Khmer village house but on a much grander scale, is reached via a bamboo bridge - necessary, it turns out, when the rain comes. "We built this place, if you can believe it, through the wet season - some days, all of this was underwater," says Piot, showing me photos of rain-soaked fields. "It was necessary to preserver in order to be open for the dry season." The building consists of a large wraparound verandah and central kitchen, guests are welcomed to sit down for a welcome drink and then a short Q&A with Sanctuary Manager Leanne Wallace, an experienced young Englishwoman, who previously worked with elephants in Thailand.
She first introduces the location, which is part of the 1100 acre Bon Them Community Forest. Protected by law, it is maintained by the local community as a source of wood and shelter, with an agreement that their 14 elephants have access to part of it, but only in a sustainable, non-intrusive way. As the first such sanctuary in Cambodia, Wallace also hopes that it will serve as an example for others to follow, although the numbers in the country are so small - just 75 captive pachyderms, and no more than 600 in the wild, mostly in the northeast province of Mondulkiri - they also have a longterm plan for a breeding programme. Indeed, two male, or bull, elephants are being brought in for exactly that purpose, but will otherwise be kept separate from visitors and the herd for safety reasons (bulls in musth can be extremely aggressive).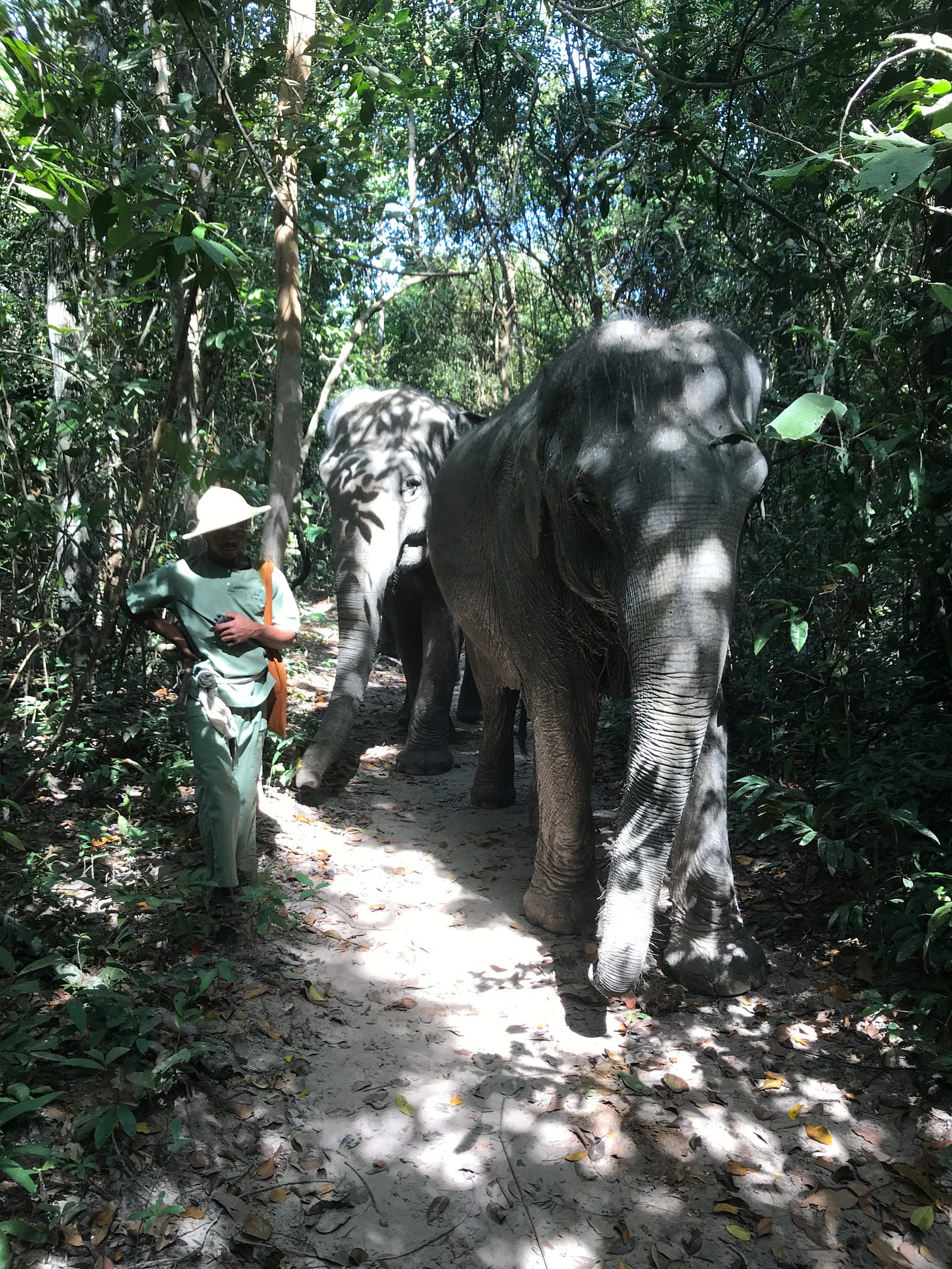 From here it's time to meet the elephants. Indeed, as we're talking we can first hear squeals and trumpeting, and then see the animals as they walk past, semi-hidden by the trees. There are three tours available, the Morning and Afternoon sessions, both lasting around six hours each and costing USD 80 per person, and the all day Elephant Adventure (USD 95), which takes you deeper into the forest and includes a jungle-set lunch. With small children in our group, we've opted for the early start and a half-day visit. Prepped with baskets of food, we're first off to meet the elephants at a set feeding station - for those shaking their heads, it must be remembered that these animals are highly used to human contact, with some having spent more than 20 years at Angkor.
After a quick get to know you and obligatory selfie opportunity, we then head off on a gentle walk through the scrubland ("when we first brought them here there was so much more vegetation, and it was so much greener!" Piot tells me later). As we slowly walk behind them, maintaining a safe distance, sometimes meandering around the easier to navigate dirt path as these giant animals go straight through the bush, a sense of calmness descends on our small group, as if adapting to their pace has also helped slow busy minds. While we wait for them to move onto the next enticing plant to eat or tree to scratch on, the guides teach the children local games - one involved knocking nuts together to make a clicking sound, while for the other you threw seeds to get as close to a target as possible, kind of like a countryside version of petanque.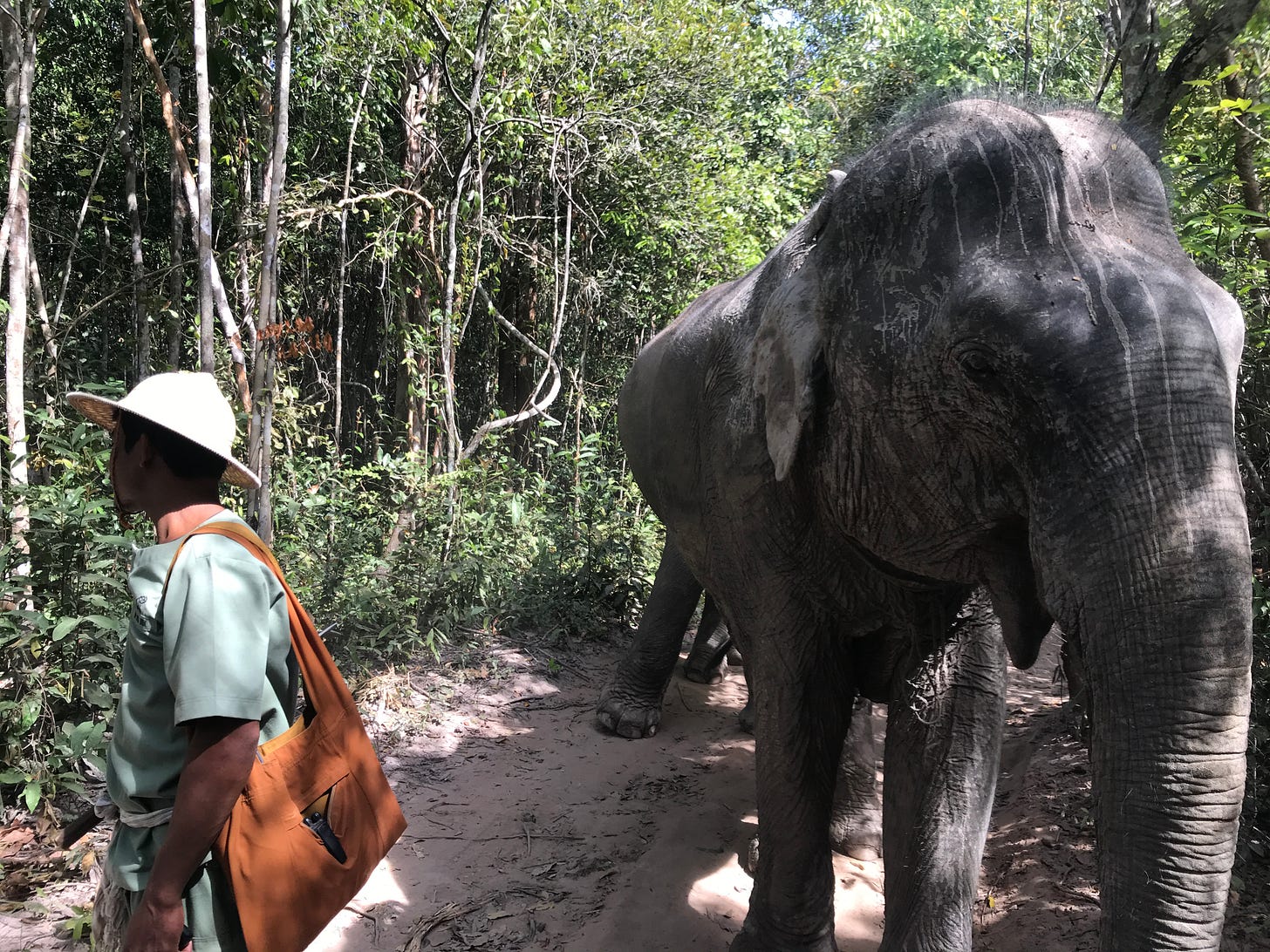 We eventually shuffle deeper into the forest, with the elephants following us single file, encouraged through the unfamiliar foliage by their mahouts ("we thought they would love all the food on offer in the jungle, but they actually prefer it in the open - perhaps it's the unfamiliarity of what is okay and not to eat that makes them cautious," Piot explains later). It's quite the sight as we walk through the trees along the shady path, these large animals emerging around the corner just tens of meters behind us. Eventually, we end up back at the bamboo bridge, and watch as the elephants make their way back to the watering hole. After a quick drink, we head down to meet them. As they happily cool off in the water, we're led to a small shelter next to the pool where the guides have set aside a number of car tires, fruit in a basket, sugarcane and rope.
Sensing some sort of team building challenge, we're relieved to discover we're to make elephant brain teasers, whereby the fruit and sugarcane is put inside the tires and rope used to hold it all in - it's a fun activity, and even more fun to watch the elephants try and figure out how to get at it. Of course they're successful, but it demonstrates the effort by the Kulen Elephant Forest Sanctuary to provide more than just a safe home, and also a place that stimulates and engages them. It's a thought we reflect on over our lunch, a wonderful meal of simple home cooked Khmer dishes that includes fried rice, mixed vegetables, and tropical fruit slices all washed down with fresh coffee and juice.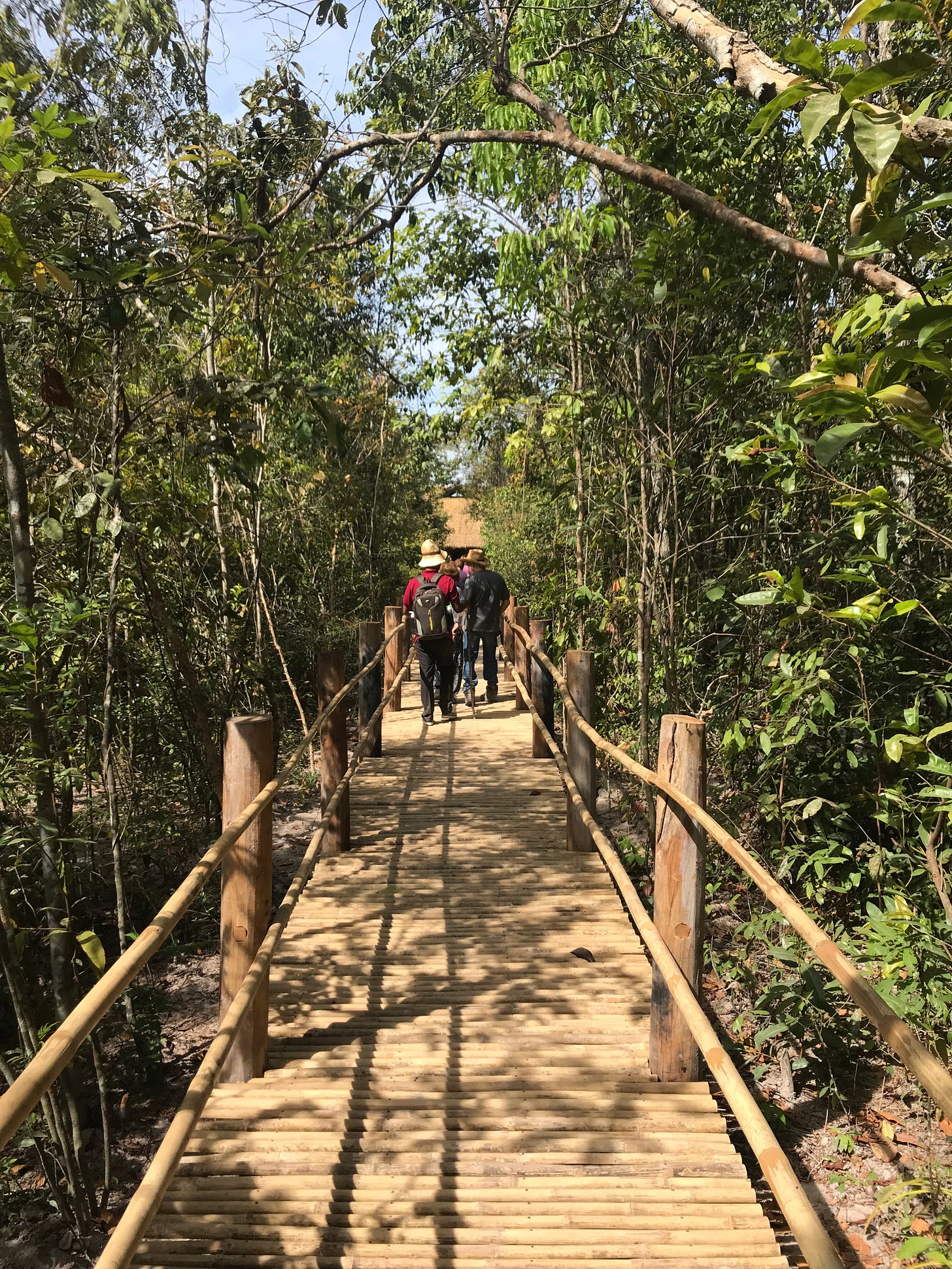 With thank you and goodbyes, it's time to make the walk back to the van, stopping to learn about the properties of more medicinal plants and berries not to eat, and passing by visitors just arriving for the afternoon tour. It occurs to me on this stop and stroll - David Piot may not be an elephant guy (at least, not yet), but he has helped create a place that leaves wonderful memories of them. And that really is more than enough.