Discover more from Tales of the Orient by Simon Ostheimer
Original stories about Asia by a British Hongkonger
Over 3,000 subscribers
Life Through a Lens
Hong Kong photographer Nicholas Kitto is on a remarkable journey to record China's 'treaty port' architecture, while at the same time uncovering his family's colonial past
We were on a short family holiday to Shanghai to celebrate my son's 14th birthday. I had promised not to be distracted by the old treaty port buildings on the Bund … but I couldn't resist and was caught in the act by my daughter!
Having built up a successful career as an accountant, Hong Kong photographer Nicholas Kitto decided to leave behind the corporate world in 2007, put down the calculator and pick up his camera, as he threw himself into his true passion of photography. The chance discovery of his father's old family home in Tianjin on a business trip led to a mission to track down the architecture remaining from the Treaty Port period, when foreign powers divvied up large sections of China. After a 12 year project, this year he released his book Trading Places, A Photographic Journey Through China's Former Treaty Ports, which covers the buildings that remain from this important if controversial period in history. I recently caught up with Nick in Hong Kong, where he has lived since 1983, to ask him the most obvious question: why?
Photographic beginnings
Nick's interest in photography began in 1963 when he was sent to a prep boarding school at the tender age of 8. "The deputy headmaster was a keen photographer. He had a Hasselblad camera which looked wondrous to my eyes. Every weekend he would take, process and print – generally in colour too – a number of images. On Sunday nights he would turn out the lights in the dormitories and would bring with him a handful of prints from his photography that weekend to show us all … I was smitten!"
Taken with my first camera at my Prep School, St Peter's in Seaford. After the short half-term holiday of the 1967 summer term, a few of us more senior students had sought and obtained permission to bring our cameras back for the remainder of the term.
He recounts that it became apparent at that same summer term at his new school that he couldn't swim to save his life, literally. "My parents were aware of this and so I struck my first deal: once I could swim the width of a swimming pool; they would buy me a camera!" He learned to swim during those summer holidays at the Wandsworth public baths in London, and eventually doggy-paddled a width of the pool and was rewarded with a camera. "Sadly I cannot remember what it was but it took 35mm cartridge film, and shot in the square format." One Christmas in his teens Nick was given a Kodak Instamatic 25, which introduced him to colour slides. Subjects ranged from friends and family, football matches, holiday sights, and yes, old buildings.
Embarking on adventure
Nick qualified as a chartered accountant in 1977, and immediately began to consider going overseas. "In those days it was not unusual for newly qualified accountants to go abroad for two to three years to gain some international experience. And so that was what I sought to do in 1978, expecting to return to the Isle of Man after two years to become a chubby tax-haven accountant, marry my long-term girlfriend and settle down." Having been strongly influenced by the film Zulu and books by Wilbur Smith and other writers on Africa such as Robert Ruark, he told the headhunter that he wanted to work in Africa or, as a second choice, Hong Kong as he knew his family had spent time in China. "After a few interviews I was hired by what was then known as Whinney Murray (which became Ernst & Whinney, now Ernst & Young) in Nairobi, Kenya. I started in September 1978 and had a genuinely wonderful few years there."
This photo was not long after I'd arrived in Kenya … my girlfriend and I visited a lodge in the Amboseli Game Park with a colleague and his wife for the weekend in February 1979. Watching the mighty Mt. Kilimanjaro arise out of the dawn mist was quite a sight!
Following his stint in Kenya, Nick moved with E&W to Jeddah in Saudi Arabia, then Muscat in Oman. "By the time I moved to Muscat I was beginning to realise that, while I very much enjoyed being with the firm, I really wasn't keen on working in the Middle East. I was a bachelor in those days and the firm's policy was, roughly, to move bachelors around every two years, so that they didn't remain in a conservative location like Saudi Arabia for too long. But then, after you'd been somewhere more relaxed for a couple of years, you were likely to be moved back to one of those more conservative locations. I was at a point in my career that if I was going to move to a different partnership within the global E&W 'empire' I really needed to do so quite soon."
Omani Fort circa Sep 1982. I actually had a lot of images from the area as I was asked to visit and photograph quite a few of the locations covered by the firm's offices. While I have the resulting recruitment brochure, I never received the slides back, sadly.
The Far East still held its attractions for Nick and so he wrote to their Singapore office to see if there were any opportunities there. There weren't, but they forwarded his query to the Hong Kong and China practice which was looking for a technical and training manager. Nick started work with the firm on 18 April 1983, having arrived in Hong Kong the day before. And never left. "Hong Kong is a hard place to leave, everything works so well, and it was, and is due to its business environment, a great location to work in the accounting profession, and even more so since the Mainland started to open up. If I was much younger, I'd be working up there by now." He met his wife in Hong Kong and his two children were born and educated there. "I sometimes think about returning to the Isle of Man, or perhaps elsewhere in the UK, but I expect I'll still be thinking about that the day I drop, while still in Hong Kong of course!"
Discovering the Treaty Ports
While he had been somewhat aware of it, Nick had never truly explored his family's long historical connection with China. "The extent only became clearer to me as I explored the former Treaty Ports and researched the history. I was also fortunate to meet a British historian and teacher in Taiwan who undertook a considerable amount of research on my family, simply because he was interested in my surname! I'll be forever grateful to him as neither my father nor I had any idea about the extent of his mother's family's activities in China." However, it would only really hit home when, on a 1996 Mainland business trip, he discovered his father's old family home in Tianjin.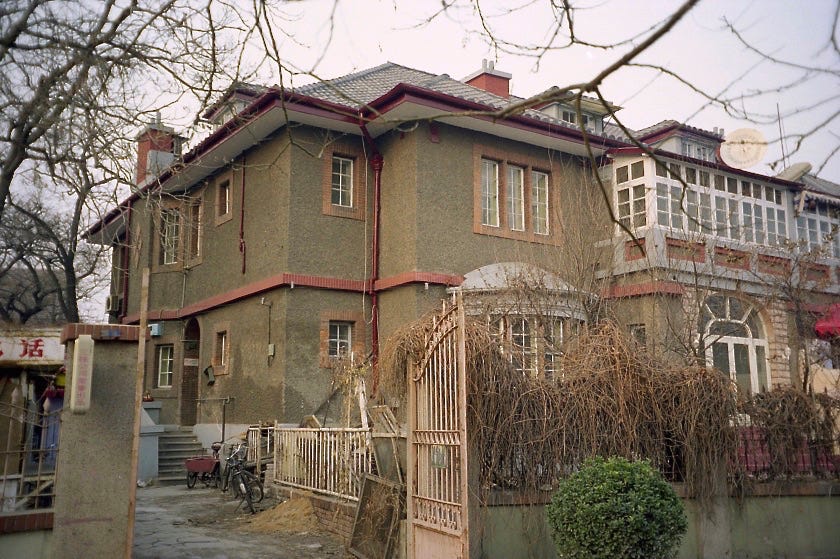 My father's old home on Racecourse Road in Tianjin, found on 17 December 1996.
"After a good dinner with rather too much maotai [a popular type of Chinese liquor] I set out to find the house with one of my client's Mandarin-speaking staff. We left the 'team' back in the hotel bar and headed to an area that had looked promising in a drive-by earlier in the day. As chance would have it, the taxi stopped outside a house that looked to be exactly as my father had described and drawn a few weeks earlier. While I couldn't know for sure until confirmed by my father, it seemed certain that we had been successful … that simply triggered more celebration once we returned to the hotel bar!" On a subsequent visit, Nick was accompanied by his father and they discovered the ground floor of the house had been converted into a bar. "While in his old home sipping our G&Ts, my father observed that 'the house seems much smaller than I remember', to which I said 'if I may reply on behalf of your old home: you seem much larger than I remember!'. But of course, it was a very moving experience.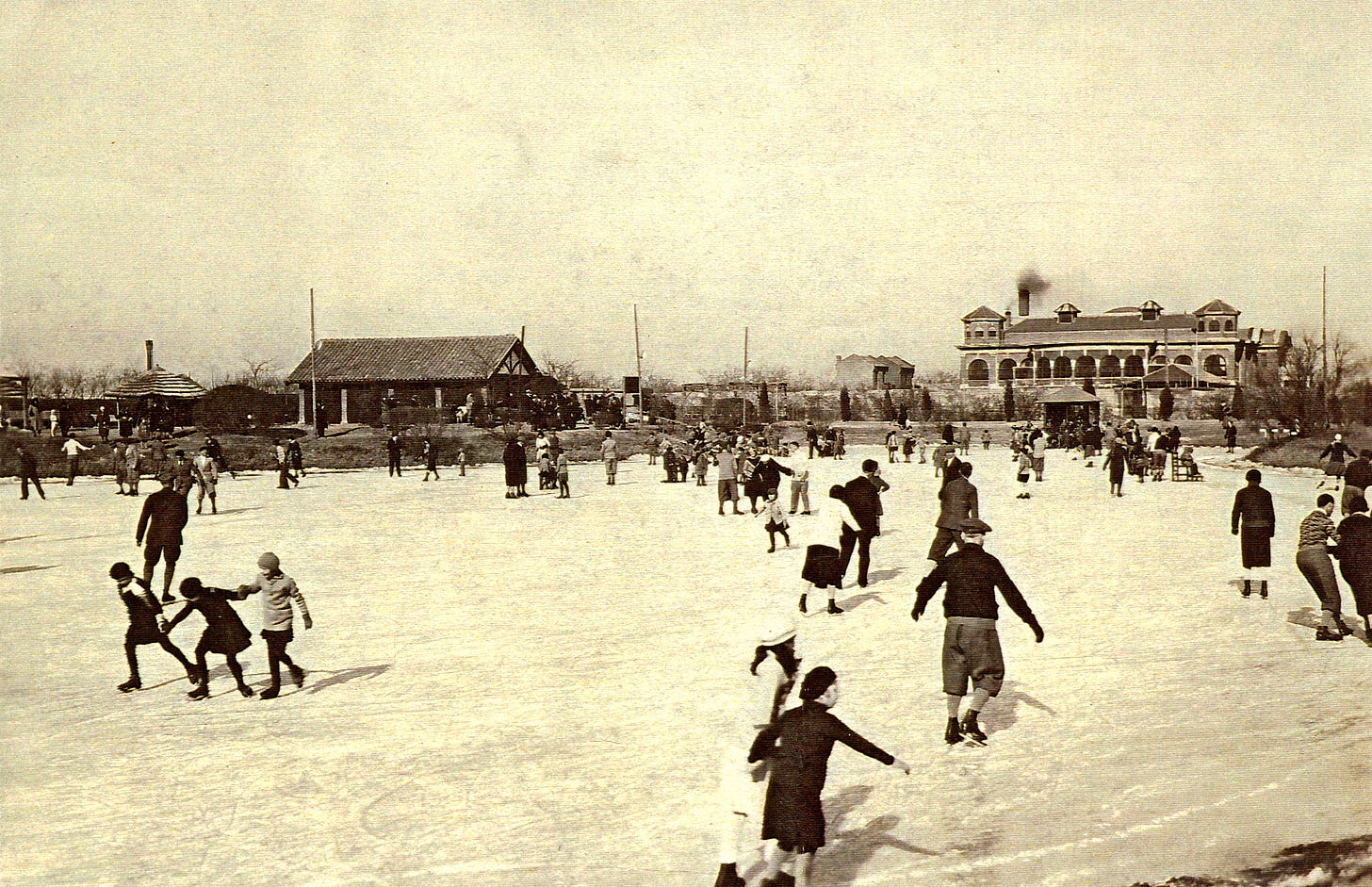 After the house, my challenge for the next visit to Tianjin was to locate the Tientsin Country Club. All I had to go on was an old 1930s photograph (above - my father is somewhere in this!). However, the Club was finally located on 4 December 1997.
In 2012, the father and son planned to visit Hankou together, which is where the family moved after Tianjin when Nick's father was nearly six years-old. "He rather ran out of steam on that one, and decided not to come," recalls Nick. His father made one other trip to Hong Kong in early December 2016. "My daughter returned early from university in Australia so as to be here then too, but my son was stuck at his university in England. We had a wonderful week together in Hong Kong and that was the last time I saw him, he died quite suddenly and unexpectedly in October 2017, aged 92."
Turning hobby into profession
In 2008 when he'd taken an early retirement from accounting, Nick had initially expected to concentrate on landscapes and wildlife, which is what he'd done until then. "I had never intended to photograph built heritage, but once I started, I was soon immersed. And there are some terrific buildings, which was part of the attraction. This may sound silly, but as I became more knowledgeable of the Treaty Port era, and of my family's involvement, I felt quite emotionally attached. And so I would often find myself placing both hands on the walls of a building, pleading with it to tell me its story!" It was these stories that he eventually pieced together in Trading Places.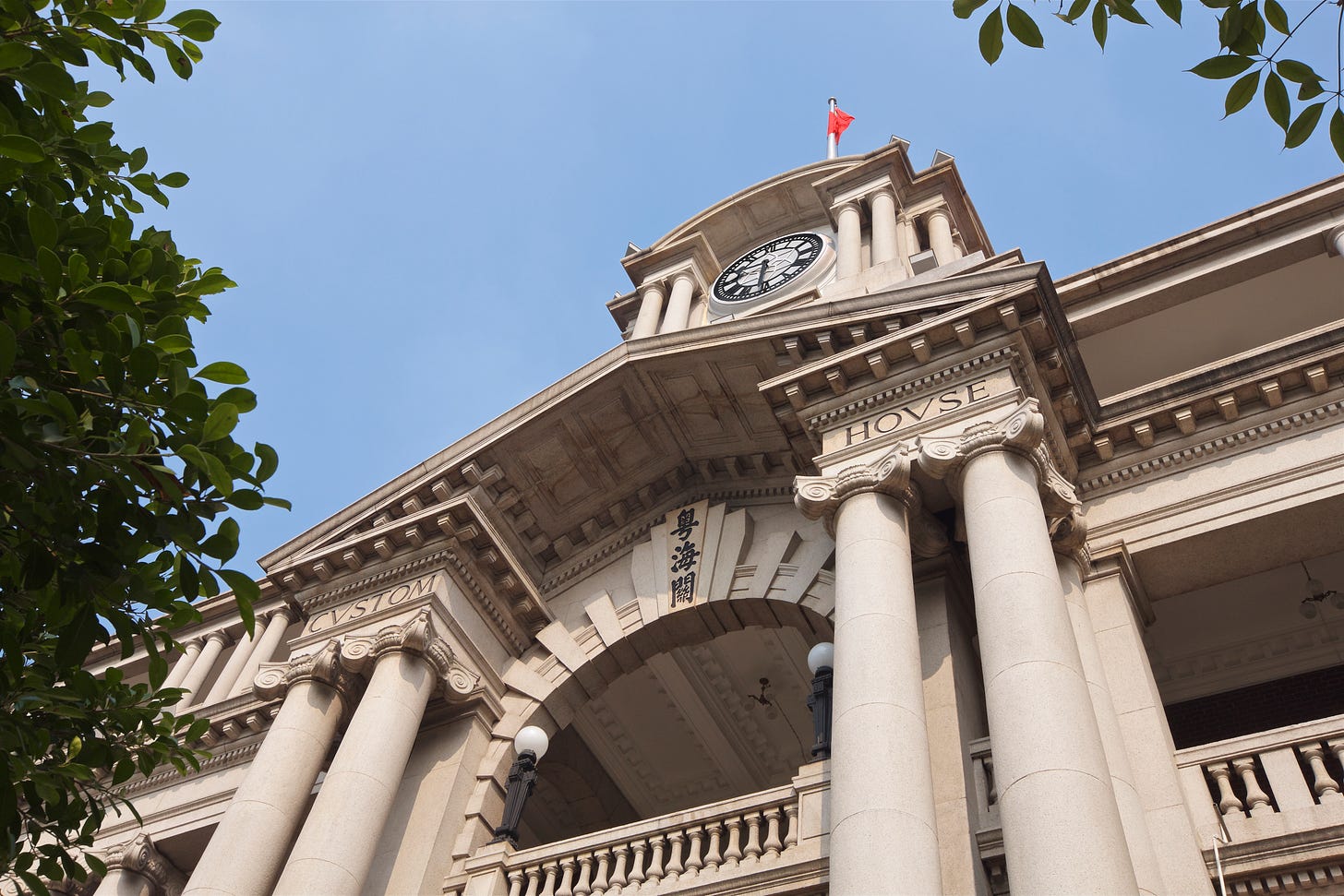 One of our early visits on the Treaty Port project was Guangzhou (which I was to visit on five other occasions). This image of the Custom House dates back to October 2008 but remains one of my favourites … indeed I chose it as the the cover for Trading Places.
On his various travels north of the Hong Kong border, which came to number more than 50 trips all across the China Mainland, Nick was accompanied by friend Robert Nield. The author of his own two books on Treaty Ports (The China Coast, Trade and the First Treaty Ports, and China's Foreign Places, The Foreign Presence in China in the Treaty Port Era, 1840-1943), Nield was a fellow Hong Kong-based accountant. "We both shared an interest in British colonial history and during various social meetings we discussed the possibility of exploring China's former Treaty Ports, particularly after I had made those early trips to Tianjin and had discovered my father's family house."
However, while Tianjin was to become a frequent and favoured place to explore, the most unusual locations the pair visited were two landlocked Treaty Ports in southern Yunnan. "The French-run town of Mengzi and the small British settlement in Tengchong are both hundreds of miles inland from the sea and the only rivers that pass through them are seldom navigable by little more than a canoe! They were of course official Treaty Ports, but were the only we visited that did not have an actual 'port'. Albeit, shipping is not the only way to move trade." Indeed, the former British consulate in Tengchong, actually the last photo in Trading Places, was caught twice in ferocious fighting between Chinese and Japanese forces during the Pacific War.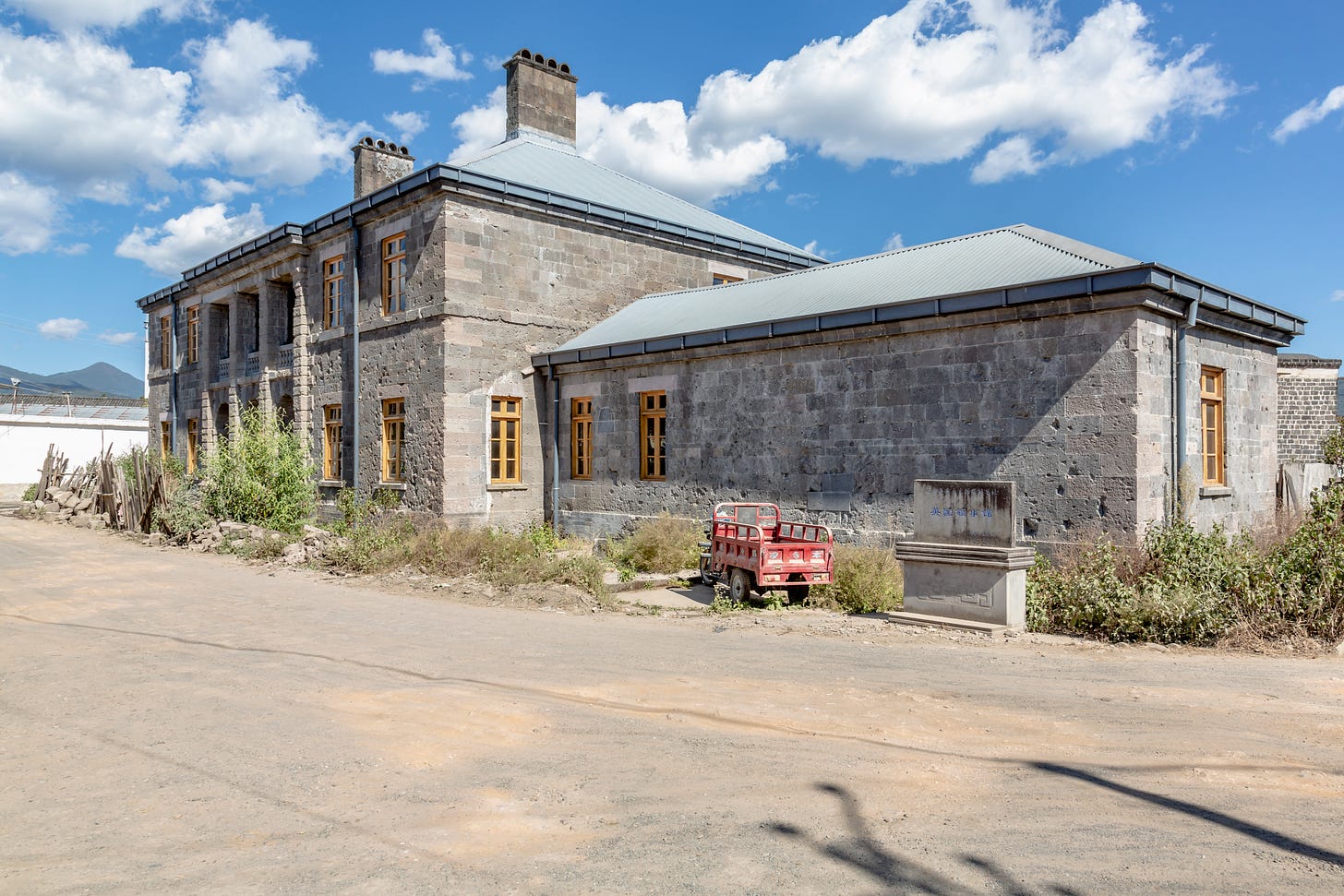 The former British Consulate at Tengchong … it may not look much but its bullet-marked walls speak plenty of its history!
That said, Nick's favourite Treaty Port-era building lies back in Tianjin. "Every building I photographed – and I long ago lost count of how many I did – had it's own meaning to me, each, after all, played its important part in the Treaty Port era, but if I'm forced reluctantly to choose, I'd go for the Tientsin Country Club." This was the first building of some size and only the second building with a family connection that he found, and became a frequent visitor to after 'discovering' it in 1997: attending a 'tea dance' there in January 2002, being granted a grand tour of all the facilities with his father in 2004, and then finally seeing it in all its fully restored glory in 2014.
A lasting memorial to the past
In many ways, one of the best things about Nick's journey over more than two decades was discovering just how many heritage buildings were still found standing. "When we started, I didn't know what to expect and assumed most of the old European buildings would have been redeveloped – given the history behind them, it would have been no surprise had they all been bulldozed into landfill! But there was not one city we visited where we could not find anything and, generally, there was an awful lot – not only still standing but also having been restored to a very high standard. Thus, rather than weep over what had been but was no more, we instead rejoiced over what remained."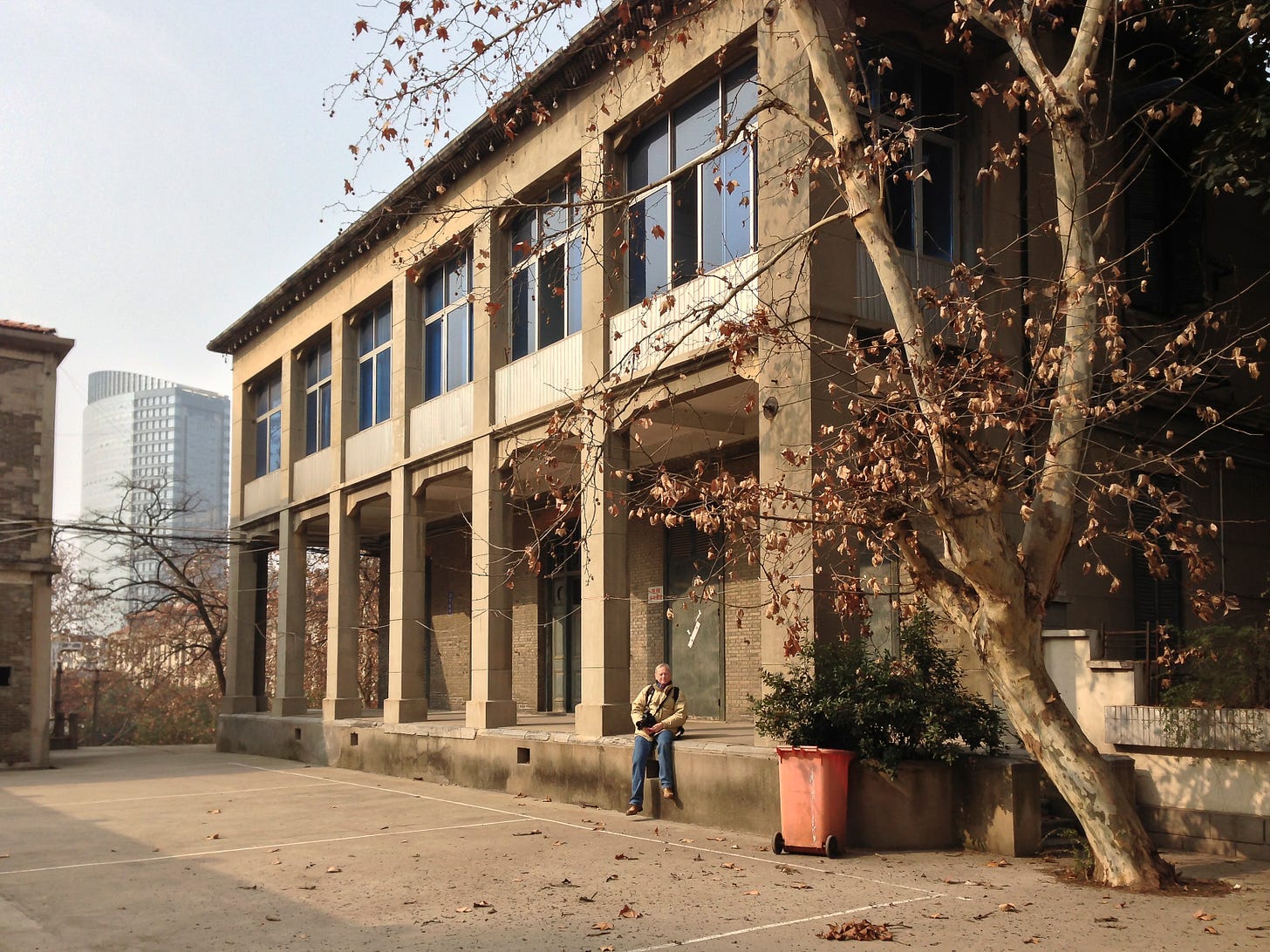 The first member of our family to arrive in China was Colin Mackenzie Ford, my father's mother's great uncle. He had been born in India, where his father had a successful business, sent to secondary school in Aberdeen and thence to Aberdeen University. The plan was for him to return to India and join the Civil Service but instead he was recruited by the British Consular Service for China while in Aberdeen; he started work in Shanghai on 3 August 1867. He later secured a job for his nephew (my great-grandfather) with Jardine Matheson in China. From 1889 to 1897, Ford was British Consul at Wuhu and soon became friendly with the local Butterfield & Swire agent, William Alfred Howell. Howell had a daughter who was promptly introduced to the nephew and they soon married. Thus, the consulate has a special meaning to me and it was a delight to find it still standing, albeit it has been rather messed-around with. For some reason I look rather small in this iPhone image!
You'd think after more than 50 trips to Mainland China that Nick might have seen all there was to see, but you'd be wrong. "Goodness me, I doubt anyone can truthfully say they've seen everything; certainly I cannot. I've lived in Hong Kong since 1983 and have barely scratched the surface on old buildings to see even here. And I have much more still to explore across Mainland China too. Even in the larger cities such as Tianjin, Qingdao, Hankou and Guangzhou, which in each case I have visited at least five times, I still have lengthy 'to do' lists. Perhaps I may have covered the essentials, but the great beauty of the past is that there is always so much more to unearth."
Trading Places, A Photographic Journey Through China's Former Treaty Ports can be purchased now online through the publisher Blacksmith Books for HK$580
For more information on the photography of Nicholas Kitto, please visit his website